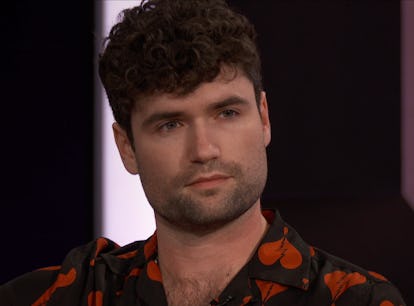 Paul Called Out Vanessa Lachey's "Personal Bias" Hosting The Love Is Blind Reunion
"She shouldn't present as being an objective neutral party."
Netflix
At the Love Is Blind Season 4 reunion, it wasn't the contestants who stirred up the drama, it was one of the hosts. After the much-delayed special finally aired on April 17, Vanessa Lachey's name became a trending topic on social media. Viewers called out the host for seeming to show favoritism in her line of questioning, particularly when it came to her interrogation of Paul's statements about his ex Micah. After the show, Paul called out Lachey for her "personal bias" during the Love Is Blind reunion.
During the reunion special, Lachey put Paul in the host seat over a comment he made during a confessional in the finale. After his non-wedding to Micah, Paul said to the cameras that a reason he chose not to go through with the marriage was because he couldn't see Micah as a mother. Micah broke down in tears when Lachey recounted the statement, saying it was "the worst thing" Paul could have said about her. Paul tried to explain that he worded it badly, and he actually meant that he couldn't see himself and Micah as a pair being good parents in that moment, but Lachey wasn't having it. "Micah... Are you as confused as I am?" the host interjected after Paul's explanation. "I feel like you're dodging around the issue." Lachey then proceeded to ask Paul multiple follow-up questions about why he didn't see a nurturing, motherly quality in Micah.
The interrogation left a bad taste in viewers' mouths, who called out Lachey for harping on an understandable comment and playing favorites.
And Paul agreed with the fans. After the reunion, Paul told People that he felt Lachey had let her personal bias affect her line of questioning. "I thought that I detected a little bit of personal bias there. I'm not sure what it was," Paul said. "I guess she's within her right to drill on personal bias, but she shouldn't present as being an objective neutral party if that's the case. But I think it's fair to continue follow up questions. But if we're going to go that route, we need to be able to have a full length conversation."
He went in further on his Instagram Stories, writing "Honestly she never wanted to understand what I was saying. She just wanted to punish me."
However, he also seemed to reveal that Lachey had sent him flowers and an apology, so hopefully it's all good between the two now.