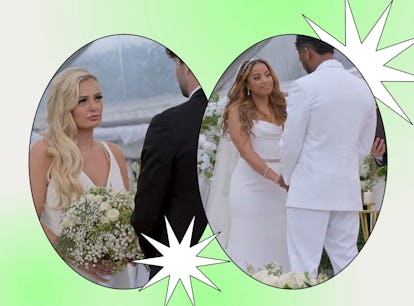 Ranking The Love Is Blind Weddings By How Surprising They Were
You're lying if you say Tiffany and Brett's wedding surprised you.
Netflix
Not all Love Is Blind weddings are created equal. Season 4's finale brought plenty of surprises, but not every wedding ceremony ended in a twist. Fans already had a pretty good idea of which couples would say "I do" and which would break up, but a few couples totally flipped the script. This ranking of the Love Is Blind Season 4 weddings by shock value shows just how surprising each ceremony was.
Spoiler alert: Don't read on if you haven't watched the Love Is Blind Season 4 finale yet. The matches for Season 4 had a surprisingly high success rate, with almost every single couple getting married in the end. Even Jackelina, who had an explosive breakup with Marshall, seemed to find love in the end, as fans have spotted her cozying up with Josh after the show. But not everyone came out of the season with a significant other. Marshall got left in the dust, and Paul and Micah realized they weren't ready to take the next step in their relationship. Honestly, the Paul and Micah breakup wasn't too surprising, and neither was the wedding that every viewer already knew was a lock: Tiffany and Brett. Let's run down the finale twists, starting with the least surprising ceremony of all.
4. Tiffany & Brett
Come on. Obviously, Tiffany and Brett got married. They've had the perfect, fairytale romance all season long. Their only slight hiccup was Tiffany falling asleep at an unfortunate time, and understandably being a bit overwhelmed by the wedding planning process. That's nothing! Even Brett's last-minute freakout about the tailoring of his pants kind of felt like it was just thrown in the show to provide some sort of drama for this couple, even if it's incredibly minor. When it came time for Tiffany and Brett to say "I do," nobody was surprised.
3. Micah & Paul
Sure, their failed wedding was by far the most dramatic part of the finale, but it wasn't exactly shocking that Paul and Micah broke up. No matter how many times they assured their family, friends, and each other that they "see the world in the same way," their connection just never really felt that strong. When pretty much everyone in Paul's life advised him to go with his heart rather than his head, it was over. Of course, the hyper-analytical scientist Paul couldn't just ignore the data: He and Micah don't add up.
2. Kwame & Chelsea
Now this wedding actually was pretty surprising. It was a given that Chelsea would say "I do" to Kwame — she's been head-over-heels for him all season, to the point where she's completely blind to all his red flags. The shocker was Kwame saying it back. It's been pretty clear from the jump that Chelsea was not Kwame's first choice from the pods, and he hasn't exactly been subtle about making his reservations known. It all seemed to be leading up to Kwame turning Chelsea down on their wedding day, but instead, the couple got married. It was a surprise until you remember Kwame was also on Married at First Sight before Love Is Blind — he's been ready to get married for a while now.
1. Zack & Bliss
The real gag of the finale was Zack and Bliss. They faced so many hurdles — from Zack's engagement to Irina to Bliss' disapproving father — that it really felt like they wouldn't go through with the wedding. They also had significantly less time together than the other couples, given that Zack chose to go to Mexico with Irina instead of Bliss. But despite it all, Bliss and Zack actually did get married. Maybe Bliss said yes to spite her father, who kept whispering warnings to her while walking her down the aisle, or maybe she just wanted to hear her favorite song "I Hope You Dance." Either way, her response was a total surprise.
We'll see how it all works out for them when the Love Is Blind Season 4 reunion streams live on Netflix at 8 p.m. ET on April 16.