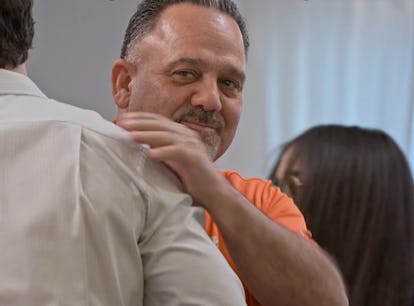 Bliss' Dad Is The Ultimate Love Is Blind Hater
He's not here for it. At all.
Netflix
If Zack and Bliss could get past Zack's engagement to Irina, they could survive anything, right? Well, maybe anything except not the ultimate Love Is Blind skeptic, who also happens to be Bliss' father, Shah. Zack may have totally won over Bliss' mother and sisters, but her dad was another story entirely. It wasn't all too personal though; Shah just so happens to be the ultimate Love Is Blind hater, and you can't really fault him too much for being suspicious of his daughter marrying a near-stranger.
Spoiler alert: This post details events in Episode 10 of Love Is Blind Season 4. Coming off his dazzling display meeting Bliss' mom (who went so far as to tell him she'd be his mother, too), Zack must've been feeling pretty confident about joining Bliss' family. Until it was time to meet her dad, that is. Bliss warned her fiancé that her father has a history of icing out her boyfriends. "My dad hasn't really cared for a lot of my boyfriends in the past, just because he maybe didn't think they were where they should be in their lives to be with me, or they weren't a certain way, or in his eyes up to the standard of who I should be with," Bliss confessed.
It didn't help that Zack and Shah had completely different interests. Right after they sat down for dinner, Shah asked Zack about fishing and golfing, both of which Zack admitted he had no interest in. Then, in a cringy moment that could only be matched by his singing, Zack went off on a nervous rant about why a Washington state law about suspended driver's licenses should be a civil infraction. It's something Zack clearly seemed passionate about, but all the legalese landed with a thud for Bliss' family. "I don't really have an opinion about that, honestly," Shah responded bluntly.
After that awkward small talk, Shah finally got to the real reason he didn't approve of Bliss and Zack's impending wedding: He simply can't get behind the Love Is Blind process. When Bliss and Zack admitted they'd only known each other for 20 days, Shah made his opinion known. "Twenty days is just insanity. I know you're happy, but don't fool yourself," he warned.
Turns out, Shah is no stranger to having disagreements with his daughters when it comes to marriage. He revealed that he also didn't approve of one of Bliss' sisters' marriage to a former employee of his, which resulted in a rift between them.
The tense evening ended with Bliss confidently defending her decision. "I'm not going to get married just to get married," she asserted. But her dad disagreed: "That's what you're doing."
Find out if Bliss and Zack make it down the aisle when the Love Is Blind Season 4 finale airs April 14 on Netflix.