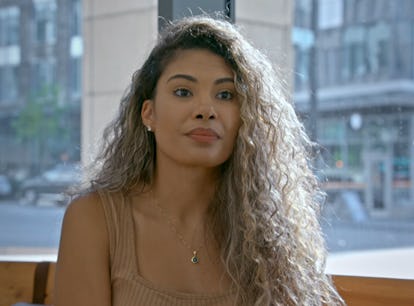 Jackelina Called Out Love Is Blind's Editing For Making It Look Like She Cheated
She also explained why she kept Marshall's ring.
Netlix
Spoiler alert: This post details events up to and throughout Episode 10 of Love Is Blind Season 4.
Jackelina has opened up about the Love Is Blind controversy that fans can't stop talking about, and according to her, the show didn't faithfully portray the true sequence of events. Viewers were as shocked as Marshall was when Jackelina ditched her wedding dress fitting to meet up with Josh, her second choice from the dating pods. When Jackie dumped Marshall right afterward, the fandom erupted, accusing her of cheating on Marshall since her date with Josh ended in a kiss. But Jackelina set the record straight by calling out Love Is Blind's editing in a note on Instagram.
The issues between Jackie and Marshall became very apparent very quickly once they finally met face-to-face. Though Marshall was a caring and attentive partner, Jackie didn't feel the chemistry with him because he wasn't "aggressive" enough for her. When she finally met Josh at Chelsea's birthday, she started to regret choosing Marshall over the wrestler and MMA fighter, and it all erupted in Episode 10. Jackelina expressed her feelings for Josh and said she wanted to see where things went with him, leaving him with a quick kiss. Then, she officially broke up with Marshall.
Except, Jackelina said those two events happened in the opposite order than they were shown. After the episode aired, Jackie took to Instagram to clarify that her date with Josh actually happened after she's already ended things with Marshall. "Marshall and I were broken up before I saw Josh at the coffee shop," she stated. "I am not sure what the reason is for playing the coffee shop date before the break up."
Jackie also addressed the other main source of fandom backlash: the engagement ring. When Jackelina and Marshall ended their engagement, Marshall asked for the ring back, but Jackelina refused to give it to him. In her post, Jackelina clarified that Marshall didn't buy the ring himself, but rather it was provided for them by production: "Marshall did not pay for the ring, Love Is Blind paid for all the rings."
Find out if Jackie and Josh end up together (super sleuths already have a good guess) when the Love Is Blind Season 4 finale airs Friday, April 14 on Netflix.