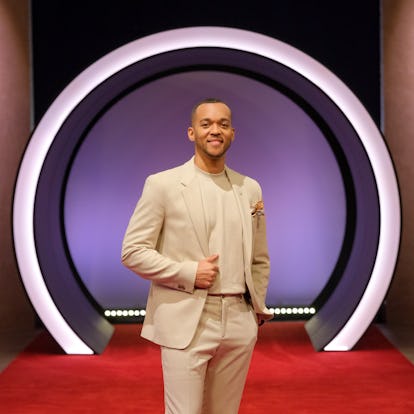 Marshall Hints That He's Been Dating Someone Post-Love Is Blind
But he needs "to take some time to figure out who I am."
Netflix
By Episode 10 of Love Is Blind Season 4, it became clear that Marshall Glaze and Jackie Bonds would be going their separate ways. Though they didn't end things on the best of terms (Jackie refused to give the ring back to Marshall, and Marshall told her they wouldn't see each other again), Marshall wasn't completely turned off by the show's experiment — and he even tried dating a fellow contestant, Kacia Clark, shortly afterward. Although his and Kacia's romance didn't last long, Marshall has stayed in the dating pool. Here's what Elite Daily learned about his post-Love Is Blind dating life.
Fans didn't see much of Kacia in the show, but apparently, she and Marshall had a bit of a connection in the pods. Reflecting on the experience on IG, Kacia wrote, "Although you didn't get to see a lot of our stories play out, there's so much I gained from this experience. I learned so much about myself and also got to meet this beautiful group of people that I am soooooo thankful for and extremely proud of!!!!!" She added, "I left the pods a better woman.. A woman more sure of what she wants and needs, proud of the way she loves and cares for people, and still unwavering in her standards."
Although she didn't explicitly mention Marshall, he told E! that the duo dated post-show. "I actually reached out to Kacia. We tried," he said on April 11. Apparently, he was still too hurt from his breakup with Jackie to commit to pursuing something new. "I wanted to just distance myself from all of that, from that experience. It was going to be difficult to try to make a relationship with Kacia."
According to Marshall, he still feels bad about reaching out to Kacia when he wasn't ready to date yet. "Still to this day, I'm apologetic about starting something, and getting her hopes up with me going back in my shell like, 'This isn't really the time or the place,'" he explained.
However, Marshall added that he learned a valuable lesson from Love Is Blind. "I know what I want and I know what I don't want. And I know what I need, too. I need someone who is very self-aware, someone who has emotional maturity and availability. Someone who knows themselves and knows that they can have bad times and they can have great times, but it's staying with someone and figuring it out," he said.
That said, it sounds like he still isn't sure if he's ready to be dating again. He told Variety on April 7 that he's currently "dating," and according to a rumor on Reddit and TikTok, he's seeing a nurse practitioner named Chay Barnes who also lives in the Seattle area.
Chay and Marshall have been photographed together and follow each other on Instagram, but they haven't publicly confirmed or denied their relationship status. Still, they've commented on each other's Instagram posts multiple times. The flirty exchanges started in August 2022, when Chay commented "Shooters shoot 👀🥰✨📸" on a picture of Marshall. On his Halloween post that year, she commented "Ohhh woww 🔥🔥🔥," then he left a "🏁🏁🏁" comment in March when she posted about defending her doctorate project.
But it doesn't look like Marshall and Chay — if that is his mystery woman — will be getting any more serious just yet. At the Love Is Blind reunion on April 16, Marshall exclusively reveals his current status to Elite Daily: "So, I have been dating someone, but I feel like with all of this stuff that's swirling around ... it's a lot for me. And I don't know who I am right now, and I need to take some time to figure out who I am before I can jump back into something and give it my all."
Additional reporting by Rachel Chapman.
This article was originally published on