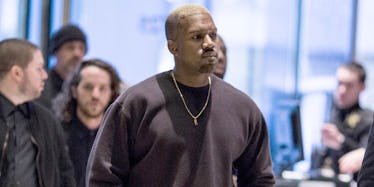 Kanye West Looks So Sad Leaving Restaurant Without Kim K In New Photos
REX/Shutterstock
Kanye West was photographed out in Los Angeles on Tuesday night not looking very happy, but then again, does Kanye ever look happy?
According to a report from Mail Online, the 39-year-old rapper was leaving a restaurant with some friends, with no sign of his wife Kim Kardashian.
And yeah, in case you missed it: Kanye is blonde now.
For a while there, he was even pink, too. Sort of like strawberry banana yogurt, or rainbow sherbet.
You gotta hand it to this guy — he never stops providing entertainment, whether he means to or not.
So yeah, Kim wasn't there, and Kanye didn't look the happiest, but you can see he's clearly wearing his wedding ring in these new photos.
And despite separation rumors following Kanye's mental breakdown and hospitalization, Kimye seems to be going strong and slowly returning to the public eye.
Earlier this week, the whole Kardashian-West family traveled to Oklahoma City together, and paid a visit to Kanye's late mother's grave.
And she posted her very first social media update since her robbery: an Instagram photo of Kanye and the kids captioned, "family."
It seems like she really is back this time, and she's bringing Kanye and her family back with her.
Last year was definitely a rough year for the Kardashian-West family and fans alike.
Kim was robbed at gunpoint in Paris and disappeared from social media for three months, Kanye had a breakdown and canceled his tour and then, to round off the year, Kanye had a meeting with Donald Trump.
So here's to 2017 being a better year for this tortured (albeit very rich and successful) family. Maybe Kanye will even bless us with a few smiles.
Citations: Where's Kim? Kanye West fails to raise a smile as he leaves LA restaurant with female companions... (The Daily Mail)