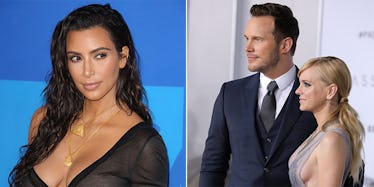 7 Life-Changing Celebrity Predictions We're Making For 2017
REX/Shutterstock
Now that 2016 is out of the way, thank God, we can start worrying about what tricky horse crap scenarios 2017 has in store for us.
This past year will go down as one of the most culturally important 365 days in history. Politically, globally, financially -- last year left a mark on the planet I doubt will be fixed any time soon.
Also, Blac Chyna got engaged to Rob Kardashian, which, WHOA, was insane. Plus, Taylor and Tom?!?!?! Who saw that happening?! Who saw it ending?!?!
Celebrity culture was far and away the most interesting part of the last 12 months, and this year is shaping up to be more of a train wreck than 2016.
Here are our predictions for what will go down in Hollywood during 2017.
Last year was a super crappy year for Kim Kardashian.
During Paris Fashion Week, the social media mogul was held at gunpoint while robbers stole anywhere between $6 and $11 million in jewelry, including her big-ass engagement ring.
A month later, her husband was admitted to UCLA Medical Center for psychological reasons after canceling his tour.
This year is the year that Kim rebrands.
She bounces back and becomes known as a stronger advocate for women and mothers. She diversifies her message and starts leaning toward more of an Angelina Jolie role versus the "put-together-Snooki" thing she has going on now.
2. Kanye releases a new album, and it's his best yet.
It had been three years since Kanye West released new music before dropping The Life of Pablo in early 2016.
The chart-smashing hip-hop album caused as much controversy as you can imagine a Kanye album would garner.
Music aside, following a series of public meltdowns during his Saint Pablo shows, Kanye canceled his tour and was admitted to a hospital to deal with mental health issues.
Reportedly, Kanye had recording equipment in his room, which can only mean there are some hospital tracks lying around.
I predict Kanye will release this stuff this year and I predict it's going to be on another level.
BOLD PREDICTION: Kanye patches things up with Jay Z, and they release Watch the Throne 2.
This was a long time coming. Taylor has been maturing her image for the past year, dating the older version of Calvin Harris and slowly turning herself into Tilda Swinton.
Her next album is around the corner, and she's already done the "dating" thing. Now it's time for her to take her brand to the next level.
This is the year Taylor Swift gets straight-up married, and I guarantee this happens with James William Middleton, Pippa Middleton's brother.
Taylor loves hot British people, and he's not married, so this is inevitable.
This isn't a prediction as much as as guarantee.
I guarantee Kourtney Kardashian shoots out another baby Disick this year.
She loves babies as much as Scott loves holding on to those Kardashian Koattails, so get ready for Mason pt. 4.
I base this off literally nothing aside from the fact that it just seems right to me.
Tom is clearly trying to gain some traction among teen girls -- he spent three months of his life this past year dating Taylor Swift just to do so.
Hailee is one of Hollywood's more prominent up-and-comers, which means she could, like Taylor, be looking to mature her brand a bit.
Dating a 35-year-old British dude in the running to be the next 007 could help her.
It's a long shot, and their age difference is about three billion years, but if it happens, you heard it here first.
6. Blac Chyna straight-up marries Eric Trump.
Let me go on record saying I respect nobody more on this planet than Blac Chyna -- besides Kris Jenner.
Chyna is an opportunist who saw a way to get in on the Kardashian cash cow, thought of a plan of attack to infiltrate the family and carried out the execution perfectly.
But she's likely done with them. She's already tasted what being a member of pop culture's most respected family feels like.
Plus, her and Rob's sham of a relationship looks like it probably has run its course, which means Blac Chyna is back on the market.
For Chyna, it's time for her to get some of that White House $$$$$$.
This is the year Blac Chyna will get Eric to divorce his wife, and the two will couple up. A marriage will probably happen, but a baby will definitely happen, and that baby will be named $$$$$$.
7. Something happens with Chris Pratt and Anna Faris.
My last pick is a sad one, and one that I pray doesn't happen.
Look at those photos from the "Passengers" premiere.
This is the kissing version of talking to someone at a party who's looking around at everyone else in the room while you're having a conversation.
He's staring at something else, she's staring at something else. This is a couple who clearly wants to be doing other stuff.
I love these two but those pictures paired up with the fact that their relationship has always seemed WAYYYY too Stepford-y  for comfort makes me think something bad is a-comin'.
Good luck in 2017, everybody!