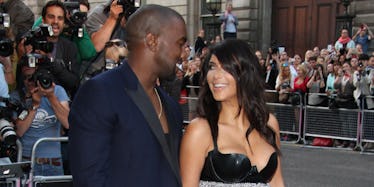 Kim Kardashian Tells Story Of Kanye Giving Her That Second Engagement Ring
Shutterstock
Kim Kardashian West was robbed of her second engagement ring, but she'll always have the memory of the night Kanye gave it to her.
She shared what she called "a really cute story" with Andy Cohen at The Girls' Lounge dinner during Advertising Week 2016 at Pier 60 in New York last week, though she admitted, "[Kanye's] gonna kill me if I share it."
According to the reality star, her husband bought her the upgraded engagement rock after closing a major deal (we're talking billions) with Adidas to open Yeezy retail stores.
She shared,
I was sleeping and he woke me up in the middle of the night and said, 'Babe! I got you something from Adidas.' And I said, 'OK, I'll get the shoes in the morning, babe, like I'm sleeping.' … And then he put a box on my pillow — the Lorraine Schwartz box… and he goes 'no, open your eyes' and I open my eyes and it was a box and I woke up! … He was like, 'Well you know I just did that big Adidas deal, so I got you something from Adidas.' And he engraved Adidas on the band inside, cause he's funny like that.
Since her September 27 chat with Andy, criminals robbed Kim of the ring and a box containing millions of dollars worth of jewelry during a break-in at her hotel room in Paris in the early hours of Monday morning.
The 35-year-old recently submitted an insurance claim valuing the 20-karat emerald cut ring at $4 million, TMZ reports. NBD. That's just one measly dollar... TIMES A MILLION, TIMES FOUR.
Kim still has her original Lorraine Schwartz engagement ring, given to her by Kanye during his elaborate proposal in a baseball field, featuring a 90-piece orchestra.
Even during the worst week ever, Kimye prove they're a bizarrely inspirational couple. The massive diamonds are just a bonus.
Citations: Kim Kardashian Shares Story Behind Upgraded Engagement Ring — Plus Find Out Why 'Adidas' Was Engraved on It (Us Weekly)