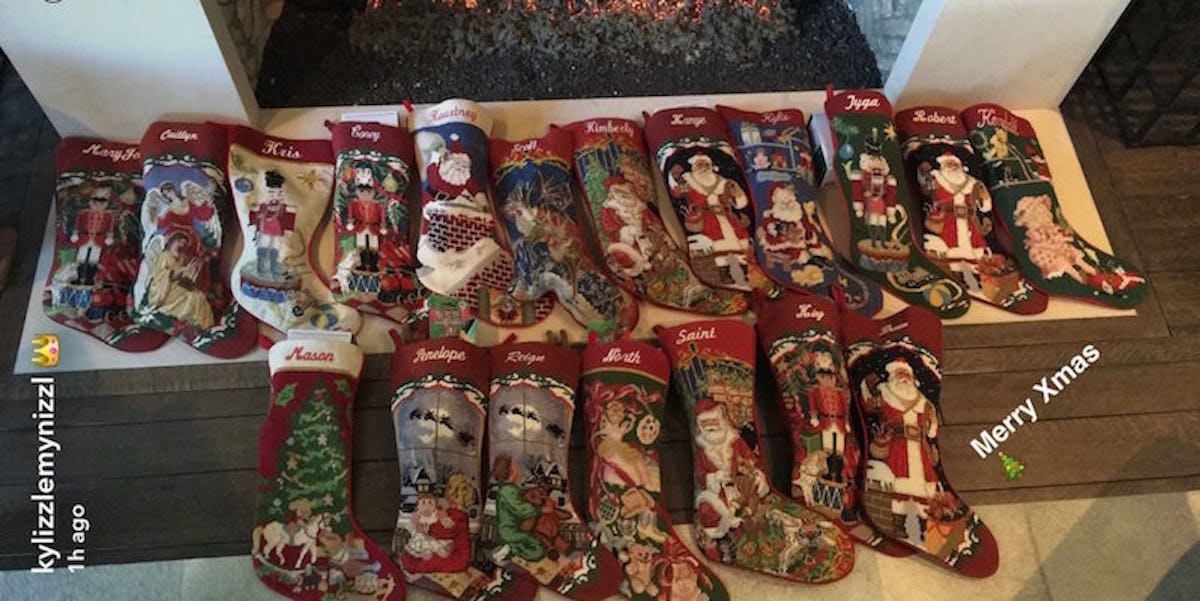 The Kardashians Gave Everyone A Christmas Stocking... Except Blac Chyna
Snapchat
In order to fully understand it, I have studied the Kardashian family tree harder than I studied for any college exam. There are so many connections and variables and incestuous relationships that I struggle to truly get my head around it.
Luckily for you, I have dedicated the past few months of my life to become a spewing fountain of Kardashian knowledge.
So, in case you're not as well-read as I am on the nation's first family of reality TV, here's a quick summary:
Mary Jo Campell gave birth to Kris. Kris was married to Robert Kardashian, they had four kids, Kourtney, Kim, Khloé and Robert. They got divorced.
Kris married Bruce Jenner. They had two kids, Kendall and Kylie Jenner. They got divorced. Bruce transitioned into Caitlyn. Kris started dating Corey Gamble.
Kim married Kanye West. They have two kids, Saint and North. Kourtney has three kids with her on-again-off-again-on-again-off-again boyfriend, Scott Disick, named Mason, Penelope and Reign.
Kylie is dating Tyga. Tyga has a son named King. King's mother is Blac Chyna. Blac Chyna is engaged to Rob. Blac Chyna and Rob have a daughter named Dream.
Got it? Good.
So, this Christmas, the whole gang got together and the Kardashians were nice enough to supply 19 customized stockings for everyone in the extended fami -- oh, no.
If you read over the previous paragraph, you'll notice there are 21 names mentioned.
Hm. The two names that are missing from the pile of stockings are Khloé Kardashian's and Blac Chyna's.
Now, had it just been Chyna's name that was missing we could all grab our bells and take to the streets chanting "SHAME" in honor of this brutal form of public humiliation.
However, since Khloé's stocking is missing too, it's hard to know if Chyna was shaded by the Kardashian Klan or if it's simply because she isn't physically there.
But since it's Christmas, let's all indulge ourselves and take this as the petty present we gossip-munching garbage people truly hope it is.
It would make all the sense in the world for Chyna to be left out of Khristmas.
Over the past year, Chyna's had her fair share of intentionally public feuds with the Kardashian family, including but not limited to: the time they shaded her for "seeking profit" from their last name, the fact Kourtney didn't follow her on Instagram until after Dream was born, when Scott was the only one in the family to attend her baby shower and when a source revealed Chyna was purposefully not invited to the family Christmas Eve party.
Woof.
As Elite Daily reported, she wasn't invited to Kris' Christmas Eve party last night because of a fight she had with Rob.
According to a source close to the family,
Rob's family is trying to distance themselves from Chyna. They can't stand the toxic relationship. They very much care about baby Dream, though. It's just come to the point when they think Rob is better off without being in a relationship with Chyna.
So, let's just say, yes, the Kardashians threw major shade at Blac Chyna this holiday season, and let's hope 2017 brings even more delicious pettiness.