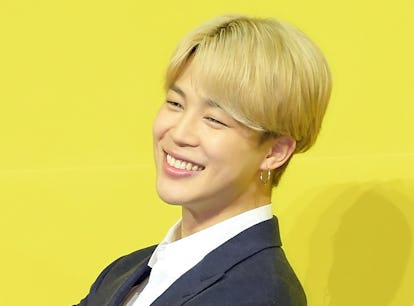 Jimin's Hobbies Outside BTS Prove He Does Everything Passionately
And he doesn't do anything halfway!
The Chosunilbo JNS/ImaZinS/Getty Images
One word comes to mind when describing BTS' Jimin: passionate. He practices for hours on end to perfect a dance routine or solo verse, all to make fans happy. That goes to show just how thoughtful Jimin is about each and every one of his performances. The star takes a lot of pride in his work and that's just one of the many reasons fans appreciate him so much. Since he's always so busy, ARMYs love seeing Jimin take time off for himself every once in a while. If you want to know what BTS' Jimin's hobbies are when he's free, check out the list below.
BTS is so deserving of their breaks in between comebacks. In 2020 alone, the group dropped three albums (Map of the Soul: 7, Map of the Soul: 7 - The Journey, and Be) and performed around the world to promote their hit singles like "ON," "Dynamite," and "Life Goes On." They've been just as busy in 2021 with the release of "Butter," which debuted at No. 1 on the Billboard Hot 100 following its release on Friday, May 21.
Since the group's success continues to skyrocket every year, fans might be wondering what BTS does behind the scenes when they're not performing or doing interviews. While V's hobbies outside of the group include many art-based activities and Jungkook's hobbies are both creative and athletic, Jimin's are so varied. From traveling and exercising, to watching TV, the singer has so many hobbies that keep him entertained when he's not on stage. Check out some of Jimin's hobbies below.
Considering BTS is always on the go, Jimin's hobbies make so much sense because they can be done from anywhere!