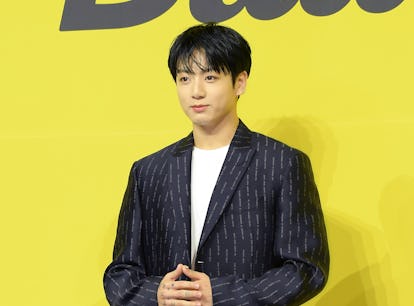 Jungkook's Hobbies Outside Of BTS Are Just As Impressive As His Angelic Vocals
Is there anything he can't do?
The Chosunilbo JNS/ImaZinS/Getty Images
Fans have learned a lot about BTS just by following them on social media. Through the years, they've discovered RM likes bike riding in Seoul, V enjoys painting in his home studio, and Jin can't get enough of playing video games. Since the group is constantly working on their next comeback or traveling around the world for performances, ARMYs love seeing the members take time for themselves by doing something outside of music every once in a while. After watching so many of their live streams and YouTube videos, fans have realized BTS' Jungkook's hobbies include drawing, filming, boxing, and more.
Just like his work with BTS, Jungkook is really passionate about each of his hobbies. Fans actually call him the "Golden Maknae" because he excels in any activity he sets his mind to. In fact, Jungkook's art is so good it's been featured on a variety of BTS' merchandise, like coasters and magnets. In 2019, he even created a few pieces to display in BTS' 24/7=Serendipity exhibition. Meanwhile, Jungkook's self-directed Golden Closet Films have impressed his members so much they asked him to help direct their "Life Goes On" music video. Since Jungkook's talents could always use more attention, check out his top five hobbies below to learn more about him.
Those are all of Jungkook's favorite hobbies! It's nice seeing him put his heart in so many things outside of music!