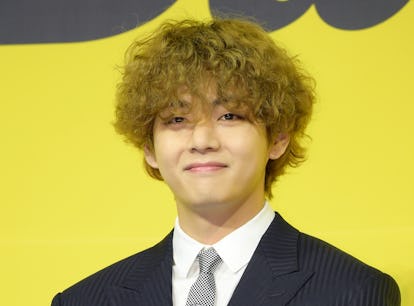 V's Hobbies Outside Of BTS Still Embrace His Creativity
Did you know V has an alias for his photography?
The Chosunilbo JNS/ImaZinS/Getty Images
BTS may be the biggest boyband on the planet, but they're also a group of regular twenty-somethings who enjoy playing video games and watching Netflix. While the septet loves recording music in the studio, they appreciate their quiet days at home just like any other person their age. Whenever they can, the stars also use their downtime to spend quality time with their friends and family. All seven members have unique ways they like to pass time and BTS' V's hobbies outside of BTS are so enriching.
ARMYs know V has always been one of the most artistic members of the group. He used to be really shy about sharing his creations on social media, but thanks to encouragement from fans, he now posts his drawings and paintings online every now and then. ARMYs love seeing V express himself outside of music, and another way he does that is by photographing his favorite sights. When he shows his artistic side, V goes by the nickname Vante, which was inspired by the Dutch post-impressionist painter Vincent Van Goh and the Australian photographer Ante Badzim.
To learn more about him, check out BTS' V's hobbies outside of BTS below.
Whether it be through art or music, V's hobbies outside of BTS allow him to express himself in so many ways.