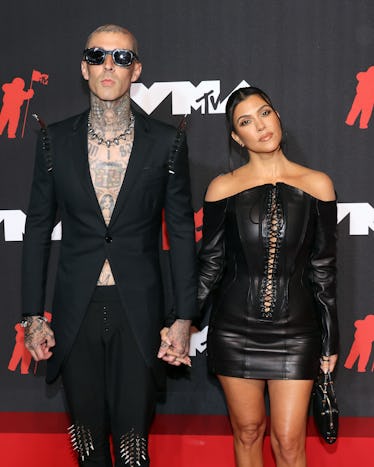 Kourtney And Travis' Relationship Timeline Is Straight Out Of A Movie
Taylor Hill/FilmMagic/Getty Images
I'll be the first to admit it: I'm a huge Kravis stan. There's no shortage of reasons to be. Kourtney Kardashian and Travis Barker's relationship timeline is a total dream. From friends and neighbors to husband and wife, their love story is rom-com (and reality TV) gold.
And it seems like Kourtney and Travis are well aware that their love is one of a kind. A source told Us Weekly that Kourtney "believes to the bottom of her soul that she and Travis are soul mates." Plus, she reportedly "can't imagine being with anyone else for the rest of her life." And Travis is just as enamored. "Forever isn't long enough," he captioned a photo of the two of them on Instagram in Sept. 2021.
Quotes like these, coupled with their, ahem, proclivity for PDA, have made Kourtney and Travis' relationship the one to watch. And doing a deep dive into their relationship timeline is officially my new favorite pastime.
At this point, it's been well established that Kourtney and Travis are deep (like deep deep) in the honeymoon stage and totally head over heels for each other. But the road they took to get to this point is just as swoon-worthy, so sit back and enjoy.
Kourtney and Travis' relationship timeline is really just getting started, but I cannot wait to see where it goes next. Here's hoping the (next) wedding happens sooner rather than later! I'm already counting down the minutes...
This article was originally published on