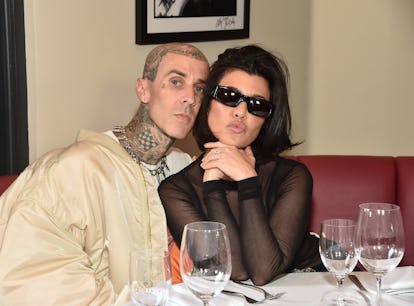 We Officially Know Baby Kravis' Name & It's Definitely Unique
Travis finally confirmed it.
Kourtney Kardashian and Travis Barker mustered every last bit of Disney magic to throw a whimsical baby shower for their soon-to-be son, and the event also revealed what the child's name will be... even if the couple didn't plan to release that info yet. Amid all the colorful decorations inspired by Disneyland attractions, eagle-eyed fans spotted the tiniest note that seemed to confirm all the rumors about Kravis' baby name. And after the shower, Barker officially revealed his son's name.
Ever since Kardashian announced her pregnancy back in June, everyone has been curious about what her first baby with Barker will be named, especially after Barker confirmed he had already chosen their son's name in a sex reveal video. The couple had been hush-hush about the name, even at their Disneyland-themed baby shower on Sept. 24, which featured tons of signs and treats emblazoned with "Baby Barker." However, one small part of the celebration seemed to slip by Kardashian and Barker.
The party featured a "Wishing Tree" themed after Snow White, which invited guests to write brief messages to the baby and hang them up on the branches. Although it was nearly impossible to read these notes based in pics shared on social media, online sleuths were able to zoom in on one very telling message. The piece of paper, which was captured by TMZ, seemed to have written on it a blessing for "baby Rocky."
Barker confirmed everyone's suspicions a month after the party, referring to his soon-to-be son as "Rocky" during an Oct. 30 podcast appearance. When asked to clarify the name, Barker verified that the baby will indeed be named Rocky Thirteen Barker.
That's the name fans have been guessing for several months now. Back in July, Barker had teased that he was thinking about the name Rocky for his son. In a video with his daughter Alabama, Barker confessed that the name Rocky Thirteen had "been going through [his] head lately." The inspiration for the moniker is Rocky George, a legendary rock guitarist Barker admires, as well as the film Rocky, which Barker praised as "the greatest boxing movie of all time."
This article was originally published on