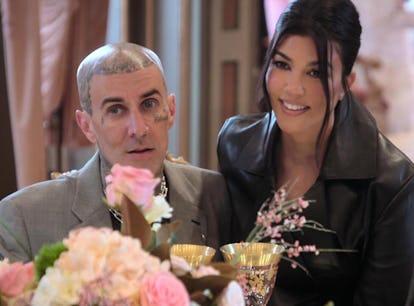 Travis May Have Just Revealed The Unique Name Of His & Kourtney's Son
The middle name is giving Swiftie.
Hulu
Baby Kravis may already have a name... and it's not one that anyone could have predicted. Ever since Kourtney Kardashian publicly announced her pregnancy with Travis Barker at a Blink-182 concert in mid-June, the couple has been excitedly sharing details about their future baby. Though they both have children from previous relationships, this will be their first child together, and it's been a long journey to make it happen through IVF complications that were documented on The Kardashians. As they prepare to add a new face to their blended family, Barker may have just answered the biggest question of all — what the name of his and Kardashian's son will be.
Barker had already teased that he picked out his son's name. After he and Kardashian revealed they were having a boy at the end of June, Barker slid into the comments of the sex reveal video with a winking remark: "I already know his name."
It wasn't until recently that Barker finally came clean about what name he has in mind for their baby. During a July 19 Complex interview with his daughter Alabama, Barker was asked what he thinks a great baby name would be.
"I like Rocky Thirteen," the drummer shared. "That's this name that's just been going through my head lately."
Unfortunately, the baby's future big sister didn't vibe with the name at all. "That's so bad! Even he knows it's bad," Alabama retorted.
"It is. It is bad," Barker admitted, before explaining the meaning behind the name. "Rocky George played guitar for Suicidal Tendencies," he said. "And 13 is just the greatest number of all time. And Rocky, the greatest boxing movie of all time."
So, does this all mean that Rocky Thirteen Kardashian-Barker will be joining Kravis' close-knit family in due time? From his explanation and how quickly he was able to answer, it definitely sounds like Barker has thought a lot about the name... even if he can admit it may be a bit out of the norm. But hey, it's not like Kardashian baby names haven't broken the mold before.