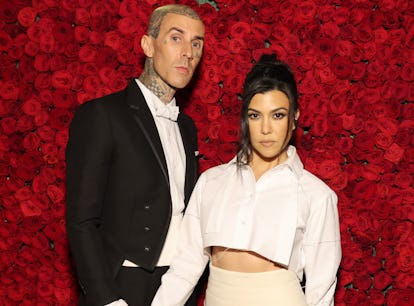 Kourtney & Travis Already Chose Their Baby Boy's Name
And fans have theories on what it could be.
Cindy Ord/MG22/Getty Images Entertainment/Getty Images
Kourtney Kardashian and Travis Barker are in baby mode. Over a week ago, the couple cheekily revealed they're expecting their first child together. Ever since then, they've been on a roll in showing their new parental bliss on social media, including announcing the baby's sex in a sweet Instagram video. In the latest tribute to their son, Kourtney posted a few maternity photos from the reveal and teased they've already secured a name for their child. No, it might not be baby Kravis, but fans have their own speculations.
On June 28, the Poosh founder shared her baby bump in two separate posts. In the first post, Kourtney can be seen sitting on her husband's lap behind his drum set. "little drummer boy coming soon," she aptly wrote. The duo kept their outfit colors neutral, with her wearing a gray long-sleeve turtleneck dress and Travis donning his usual black beanie and a white tee.
The neutral hues continued in the second post, but it was Kourtney's new caption that had fans raising their brow. According to Harper's Bazaar, it appears she originally used a teal blue emoji as the caption. But now, she's replaced it with six rows of bold dashes. The Blink 182 drummer also used dashes in the caption of their sex reveal video four days prior.
While these dashes could be a nod to the various photos (she posted six, to be exact), some users believed she might be dropping a hint about her son's name. That speculation only rose when Travis entered the chat, commenting: "I already know his name" with a winking emoji. Oh?
Although the couple did not reveal any additional details of their son's name, fans wasted no time in responding to Travis' comment. One user called back on Kourtney's caption, stating "Dash" could be a perfect name contender. Another user theorized "Ocean" could be their son's moniker, considering she's posed in front of a pool, while another said "Blue." The latter could be a nod to the blue emoji she reportedly had as the initial caption.
Some fans looked elsewhere to speculate their son's name. Shortly after their engagement in 2021, Kourtney and Travis celebrated Halloween by dressing up as Alabama Whitman and Clarence Worley, the main characters from the 1993 cult classic, True Romance.
In the comments section of their cosplay post, Travis wrote that he and Kourtney would name their first son Elvis, according to StyleCaster. This name is an ode to a notable scene from the film, where Clarence — who's a fan of Elvis Presley — sees a ghost of the late singer while rinsing his face in the bathroom. Now that the duo is expecting a boy, fans believe they might stick with Elvis, as seen in this response to Travis' latest baby name comment.
Either way, there's a chance the couple might reveal their son's name in another sweet post on Instagram. Or, maybe they'll take a page from Kylie and build a months-long mystery around his name.