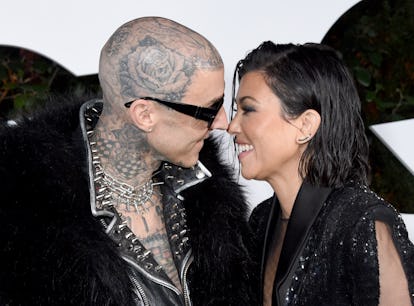 Kourtney & Travis Revealed The Sex Of Their Baby In An Over-The-Top Video
Gregg DeGuire/FilmMagic/Getty Images
Baby Kravis may not even be born yet, but Kourtney Kardashian and Travis Barker's first child together is already making a splash wish major public reveals. Just a week after Kardashian used a clever Blink-182 reference to reveal her pregnancy to the world, she and Barker once again pulled out all the stops to announce the baby's sex in an over-the-top video. Now everyone knows if a little boy or girl is joining the growing Kardashian-Barker family, and the reveal was so cute.
Late into the night on June 24, Kardashian and Barker shared a video of how they revealed the sex of their first child together to friends and family. In the short clip, Kardashian sat on Barker's lap as he played a drumroll to get everyone hyped for the big news. In a matter of seconds, blue streamers shot into the sky, confirming that Baby Kravis is a boy. Though he will be Kardashian and Barker's first son as a couple, he's about to join a large blended family, which includes Kardashian's children Mason, Penelope, and Reign, as well as Barker's kids Landon and Alabama.
Watch the sex reveal for yourself below.
The big moment came only a few days after Kardashian and Barker revealed the pregnancy to the world. On June 16, Kardashian caused a stir at Blink-182's Los Angeles concert by holding up a sign that read "Travis, I'm pregnant." The poster was a nod to the band's "All the Small Things" video, which featured an excited groupie holding up that same sign during the band's performance. The show-stopping moment caused Barker to jump off the stage and embrace Kardashian in the crowd in the middle of the concert.
The pregnancy news was especially heartening for fans who had been following Kardashian and Barker's fertility struggles over the past few years. The couple had been very vocal about wanting to have a baby together even before their massive Italian wedding. However, they were not finding any success with IVF, as has been chronicled on The Kardashians. But thankfully, after years of trying, a baby did eventually come, and now the married couple is preparing to welcome a son into their fam.