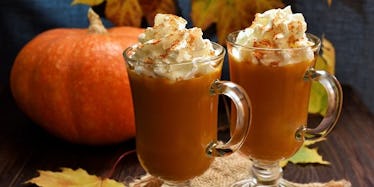 This Pumpkin Spice Vodka Will Ensure That Your Halloween Is Filled With "Boos"
voltan/Fotolia
It's rather creepy, kooky, mysterious, and spooky how pumpkin spice has managed to make its way into every possible food group this season. Technically, it's only the beginning of autumn, but that hasn't stopped the flavor from completely taking over. If you're in need of a little "boos" this Halloween, take comfort in the fact that pumpkin spice vodka is available to satisfy all of your basic witch needs.
Canada's Lucky Bastard distillery put on its thinking cap and unleashed the PSL in alcohol form, so your 2017 Halloween bash is definitely going to be the most exciting get-together yet. This Pumpkin Spice Vodka — 35 percent ABV and $39 (Canadian) a pop — is the perfect way to take your seasonal creations to new heights. Perhaps you'll be on the same level as those basic witches soaring away on their brooms.
It's probably best to indulge in a pumpkin spice shot while being properly dressed for the occasion. Luckily, there are a plethora of costume options to choose from this year, whether you're channeling your favorite TV show, paying homage to the "old" Taylor Swift (who, in case you haven't heard, is dead), or attempting to go the matchy-matchy route with your four-legged best friend. Obviously, Pennywise clown costumes are a huge hit this year, and something tells me the IT clown will need to wash down all of that flesh with something, right? TMI? Nah, it's Halloween, get with the program.
Naturally, since pumpkin spice creations have not stopped with vodka, prepare to mix a few drinks and really make fall come alive. From a magical martini to a PS hottail and everything in between, the flavored vodka will take each option up a notch. Fall in a cup is here and these treats are definitely ghoulishly good (for those who are 21 and over, of course).
If you're hungry, don't worry. Literally anything and everything you've imagined has received the pumpkin spice treatment, from cheesy favorite pizza to sugary breakfast Poptarts to tea and candy (of course). If you're looking to spruce up your home decor, PSL candles are available. You can even smell like your favorite fall latte with the pumpkin spice deodorant. What better way to get ready for the most wonderful time of year than to celebrate it in every way you can imagine? If you're going to embrace September and October, you have to go all out.
Luckily, for those who cannot get enough of fall, there is good news. You can also book a ticket to a variety of places throughout the U.S. and treat yourself to quite a scare. From old hotels to historic homes and even ships, there are many ghosts who are willing to share their space with you. If you're brave enough, you can book a stay at one of these haunted locations. Just don't be surprised when the paranormal activity heats up. You can even head back to your days at the alma mater by visiting one of these haunted campuses. Imagine staying in a dorm room with a ghost? And you thought your freshman-year roomie was a lot to handle.
Let's say you're more inclined to skip the "boos" (but not the booze) you can take a tour and experience some of the best fall foliage the country — and the world — has to offer. All you need is your pumpkin treats, a nice cozy scarf, and some comfy boots and you're ready to rock and roll.
Your imagination is bound to run wild this Halloween, so enjoy the ride, have a few of those fantastic fall treats (while enjoying those boozy options responsibly, of course), and Happy Halloween.
Check out the entire Gen Why series and other videos on Facebook and the Bustle app across Apple TV, Roku, and Amazon Fire TV.