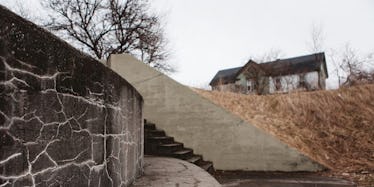 8 Real Haunted Houses Where You Can Stay The Night, If You Dare
For foodies, September kicks off pumpkin spice season, but for Halloween enthusiasts, the month before October begins a short duration of time dedicated to all things horror-themed. From books to movies to real-life attractions, fall is prime time for adrenaline levels to spike with fear, and if you thought staged hayrides and deep-rooted mazes gave you a thrill, there are a handful of haunted places to stay overnight sans actors and cheesy, overdone costumes that offer an authentic scare.
I've been a fan of haunted houses since I was a kid, and even though I will most likely end up clinging to any article of clothing I can grab onto with my clammy hands, or hovering behind the tallest, largest person in the group for "protection," I cannot get enough of getting scared. Sitting through horror films, inhaling Stephen King novels, walking through high corn stalks at night, you name it, and I'm probably game. But, I've yet to check off an overnight stay at a haunted house from my Halloween-themed bucket list.
Haunted houses are legendary, and there are plenty around the country if you do your research. Here are a few overnight stays that promise paranormal encounters you can brag about to all your friends.
1. The Lizzie Borden House
The chilling ballad of Lizzie Borden is a classic, creepy sing-song that's been stuck in my memory since childhood. Assuming you're unfamiliar with the axe murderess, allow me.
Lizzie Borden took an axe, gave her mother 40 whacks. When she saw what she had done, she gave her father 41.
Transforming her Massachusetts home into a bed and breakfast was, in my opinion, bloody brilliant. Though the actual murders date back to 1892, Lizzie clearly made quite the impression (and marketing ploy).
Visitors have the option to either spend the night, or they can rent a floor, or even the entire household, for parties, events, and paranormal assessments. You can also request to stay in Lizzie's haunted suite if you'd like, but be warned, this humble abode shares a bathroom with the John Morse Room, aka where mommy dearest was murdered.
2. The Stanley Hotel
For those who dedicated the weeks running from September through October to burying their minds in thrillers, The Stanley Hotel is epic for horror enthusiasts looking to get a scare off the page.
Stephen King's 1977 thriller The Shining was inspired by a stay at The Stanley Hotel with his wife Tabitha in 1947. To their surprise, the couple were the only two guests to stay over that fateful night.
King described his spooky, yet inspiring night at The Stanley Hotel,
I dreamed of my three-year-old son running through the corridors, looking back over his shoulder, eyes wide, screaming. He was being chased by a fire-hose. I woke up with a tremendous jerk, sweating all over, within an inch of falling out of bed. I got up, lit a cigarette, sat in a chair looking out the window at the Rockies, and by the time the cigarette was done, I had the bones of the book firmly set in my mind.
So, you in?
3. Prospect Hill Bed And Breakfast Inn
If you're looking for a paranormal experience that's a little more low-key (aka not downright terrifying), the ghosts at Prospect Hill Inn are said to be more playful than petrifying. Guests recall waking up to delicious aroma of muffins, peanut butter, and cookies, even smelling hints of a pleasant perfume in the air.
Of course, ghosts will be ghosts, so random, opening doors and the sound of footsteps are normal occurrences. According to the hotel's official website, spirits are described as typical guests.
How's that for co-existing?
4. The Historic Farnsworth House Inn
Taking into consideration just how much history looms in Gettsyburg, Pennsylvania, hauntings are practically expected.
The Farnsworth House Inn offers a ton of ghost walks and presentations to spook, but an overnight stay will also teach you a thing or two about this city's haunted past.
From the East Cemetery Hill Walk to the Witching Hour Ghost Hunt, it's safe to say you'll be in for a seriously spooky stay here.
5. The Queen Mary
Who ever said spirits can't enjoy the high seas, too?
Voted as one of the most haunted places in America by Time magazine, Queen Mary docked on Dec. 9, 1967  in Long Beach, California, and has been a floating hotel ever since. Spirit sightings include a dearly departed sailor, "lady in white," and children who drowned in the cruise ship's pool.
Daytime tours are open to the public, but we all know everything gets way more interesting when the sun goes down. Guests can partake in paranormal tours at twilight, or spooky seances to encourage a little ghost activity before bed.
6. Villisca Axe Murder House
The best ghost stories are the messiest in my opinion, so if you're a fan of fear, Villisca's Ax Murder House is for you.
I normally wouldn't piece together terror and the state of Iowa, but in June of 1912, two adults and six children were brutally murdered in their own beds, without a suspect to try for the violent crime.
To honor the victims and house the great mystery, Darwin and Martha Linn purchased the mansion in 1994, restoring the home from a vacant crime scene to a tourist attraction that to this day holds pain, great tragedy, and a lot of gruesome horror.
7. Lemp Mansion
Ready for some beer and boo? John Adam Lemp was a German native who came over to America in 1838, starting his life in the states as a grocer and eventually starting his own lager business. He died a millionaire, but you know what they say about money buying happiness (hint: it doesn't).
The family's demise is a collage of suicide, a decline in wealth, and liquidation, and apparently the ghosts of Lemp's past continue to roam the mansion for guests to goggle at. Choose from haunted history and hunting tours to see what these spirits are really up to these days.
8. Captain Grant's, 1754
Nothing says spooky quite like a cabin in the woods. Add a little history to the mix, and you've got yourself a ghostly gold mine.
Captain Grant's historic inn stands cozy in between Foxwoods and Mohegan Sun casinos, so if things get too freaky, at least you have a few escape options. The bed and breakfast is privy to spirits looking for a place to stay when their cemetery plot feels played out.
And the ownership and staff are very aware of their otherworldly guests, offering a Talking With Spirits package that features a communication lesson connecting you with those who have yet to cross over.