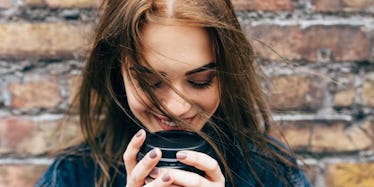 12 Favorite Food Items That Immediately Turn Into Pumpkin Spice Once Fall Starts
HEX.
Once autumn makes its grand entrance, I'm as basic as they come. Over-sized sweaters, skinny jeans, knee-high boots, apple picking, hayrides -- you name it, and I'm probably all about it. I generally try my hardest to celebrate seasons as the calendar entails, but when it comes to autumn, I am more than willing to welcome the cool air and cozy vibes early, which (bonus!) means indulging in all the pumpkin spice foods prior to the official first day of fall on Sept. 21.
Correct me if I'm wrong, but I'm pretty sure once PSLs went viral, the rest of the food industry pretty much just followed suit. It's only been over the course of the past few years that food labels -- from cereal brands to ice cream to yogurt containers -- started marketing these seasonal goods, dressing their items in shades of orange for the duration of fall. Some say it's gotten a little out of hand (maybe), but I say the more the merrier.
Fall just wouldn't be fall without a little (or a lot of) pumpkin in your pantry, and these must-have favorite food items are just some of the many spiced indulgences to invest in this season.
1. Bread
Pepperidge Farm Limited Edition Pumpkin Spice Swirl Thick Sliced Bread, $7, Shop Food
Pair a steaming PSL with Pepperidge Farm's limited-edition pumpkin spice bread for a #ToastTuesday you're bound to repeat all season long.
A warm slice tastes heavenly with a spread of Fourth and Heart's Vanilla Bean Ghee butter, but if you're really feeling fancy, whip up a serving or two of thick, fall-inspired French toast.
2. Pop Tarts
Kellog's Pop-Tarts Frosted Pumpkin Pie Pastries, see store for price, Target
As if we needed another reason to love Pop-Tarts, Kellog's is filling its toaster pastries with all the pumpkin pie goodness this season.
Personally, I like mine microwaved for 30 seconds with a cup of tea for dessert, but it would make for an equally delicious on-the-go breakfast cold.
3. Cereal
Pumpkin Spice Cheerios, see store for price, Target
This season, don't just sip your pumpkin spice -- chew it.
Cheerios isn't the only cereal brand hopping on the pumpkin trend this season, though. Be on the lookout for orange boxes of Puffins, Life, Mini Wheats, and Special K, too.
4. Ice Cream
Talenti Pumpkin Pie Gelato, $4, Walmart 
This pint of gelato intrigued me from the get-go because, not only is it mmm-mmm-good, it also stays relatively soft-serve when kept in the freezer.
Add a scoop to a warm slice of pie (apple, perhaps?), or grab a spoon and eat it solo.
5. Oatmeal
Pumpkin Spice Quaker Instant Oatmeal, see store for price, Target
I normally vouch for homemade oatmeal (pumpkin purée in oats is amazing), but if you're short on time, these quick-bake packets from Quaker hit the spot.
6. Coffee
Dunkin' Donuts Pumpkin Spice Ground Coffee, $7, Target
Some people prefer Starbuck's PSLs; others run on Dunkin. Though I love both, I'm always down for a DD home-brewed pot, especially when pumpkin spice is in the mix.
7. Tea
Harney & Sons Pumpkin Spice, $6, iHerb
A friend of mine gifted me a box of Harney & Sons pumpkin spice tea a few years back, and I've never forgotten its taste or presentation.
This gorgeous tin of teabags fits comfortably in an office desk drawer and brings with it a festive aesthetic to any kitchen counter. Sip throughout breakfast, break time, lunch, or dessert. The smell alone is sure to please your senses.
8. Candy
M&Ms White Pumpkin Pie Chocolate Candy, $9, Amazon
There's an M&M flavor for every occasion, and while I tend to favor the mint variety myself, pumpkin spice flavoring doused in chocolate coating sounds pretty damn delish to me.
9. Pancake Mix
Birch Benders Pumpkin Pancakes, see store for price, Target
Pumpkin anything for breakfast is more than OK with me, but it's especially amazing in the form of pancakes and waffles.
This pre-made powder mix from Birch and Benders is essential for cozy fall Saturdays when all you want to do is curl up in front of the TV with a short stack.
10. Granola
Purely Elizabeth Pumpkin Cinnamon Ancient Grain Granola, $6, Jet
Purely Elizabeth is at it again, this time with a cinnamon pumpkin flavor your tastebuds will water for.
Keep this bag close for easy grazing throughout the day, or sprinkle a few chunks over oatmeal, yogurt, or ice cream.
11. Cookies
Pepperidge Farm Milano Pumpkin Spice Cookies, $3, Walmart
Milano cookies have been one of my favorites for years. Combine the sandwich cookie's fudge middle with fall's most favorited spice and you've got yourself a real winner.
I dare you not to finish this whole bag in one day.
12. Donuts
Katz Gluten Free Pumpkin Spice Donuts, $39, Amazon
Gluten-free friends, this one's for you. You don't have to completely miss out on DD's pumpkin donuts with Katz here to the rescue. These gluten-free glazed rings are the perfect fall dessert sans wheat substances. Eat up with an easy tummy and happy tastebuds.