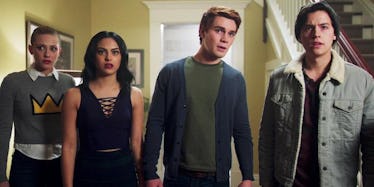 3 Perfect 'Riverdale' Group Costumes To Do With Your Crew This Halloween
The CW
As Halloween approaches closer and closer with each passing day, TV fanatics are running out of time to put together the perfect group costumes with their friends. Seriously, it's barely even a month away, people! So if you're looking for an easy group costume to put together quickly that will also announce to the whole world your love of trashy TV, look no further than the characters of the CW teen drama, Riverdale. Here are a few group Riverdale costume ideas to try this year.
Now, admittedly, Riverdale is based on the Archie comics, so I suppose these are technically Archie group costumes, too. Just like, the sexier, cooler, and darker version of an Archie group costume. Plus, because they are just regular people, the costumes are fairly easy and cheap to put together just by hitting up your local Goodwill store. And isn't that what Halloween is really all about?
1. The Core Four, Riverdale Style
It's an obvious choice, but a classic one. Grab three friends and assign yourselves one of the following characters.
Archie: Riverdale Jacket, $54, Amazon  |  Red Hair Color Spray $22, Amazon  |  Hanes Men's Short-Sleeve Henley T-Shirt, $9, Amazon
Jughead: Handmade Crocheted Jughead Beanie, $27, Etsy  |  Black Denim Jacket, $26, Amazon  |  Faux Fur Lined Denim Jacket,$29, Amazon  |   Short-Sleeved Cotton Maroon Shirt, $9, Amazon
Veronica: Navy Blue Crop Tank Top, $10, Amazon  |  Green Plaid Mini Skirt, $19, Amazon  |  Imitation Pearl Choker Necklace, $6, Amazon  |  Covergirl Katy Kat in Maroon Meow Matte Lipstick, $9, Walgreens. 
Betty: Light Pink Mesh Sweater With An Embroidered Collar, $129, Club Monaco  | Collar Chiffon Shirt, $15, Amazon  |  Classic Stud Earrings, $5, Forever 21 and a high ponytail.
2. The Core Four, Archie Style
Why not throw it back with a more classic comics look for the core four? Try these with three friends.
Archie: Get the classic vest and bow tie, pants and wig headpiece all on Amazon.
Jughead: Forget Cole Sprouse's moody jean jackets and go back to the classic Jughead look: a purple shirt with an "S" on the front, green pants, a weird floppy crown, a fake nose, and a hamburger, all for $13, Amazon.
Veronica: Look, Veronica Lodge is supposed to wear red and that's all there is to it! Get the old-school Veronica look — a red crop top with white lace accents and a sheer black mini skirt — for just $13, Amazon.
Betty: Get the classic cheerleader Betty look with this blue, white, and gold cheerleader top, skirt, wig and thigh highs for $20, Amazon.
3. Josie and the Pussycats
Ah, who hasn't done a Josie and the Pussycats costume, am I right? There are a few ways to tackle this classic group costume. If you want to go old school comics, you and your friends can order three of these identical Josie and the Pussycats costume for $26 on Amazon. It comes with a cheetah print dress, tail, and a wig with cat ears.
Pussycat Costume, $26, Amazon
Or, you could go for the costumes from the 2001 film, and get you some early 2000s rockstar gear and plastic cat ears. You can buy the pink costume for $10 on Amazon and the purple on Brandsonsale.
Pink Cat Costume, $9, Amazon  |  Purple Cat Costume, $20, Brands On Sale
Finally, you could do it the Riverdale way. You'll need this cheetah print leotard and ear headband $39 on Amazon, a black choker, and some high heels. Or you could buy Josie's cheetah print dress from Episode 1 from H&M for $25 pair that with her embellished cat ears headband for $30 on BCBG, and a fake leather jacket — which I'm sure you have already.
Embellished Cat Ears, $30, BCBG
Happy Halloween!