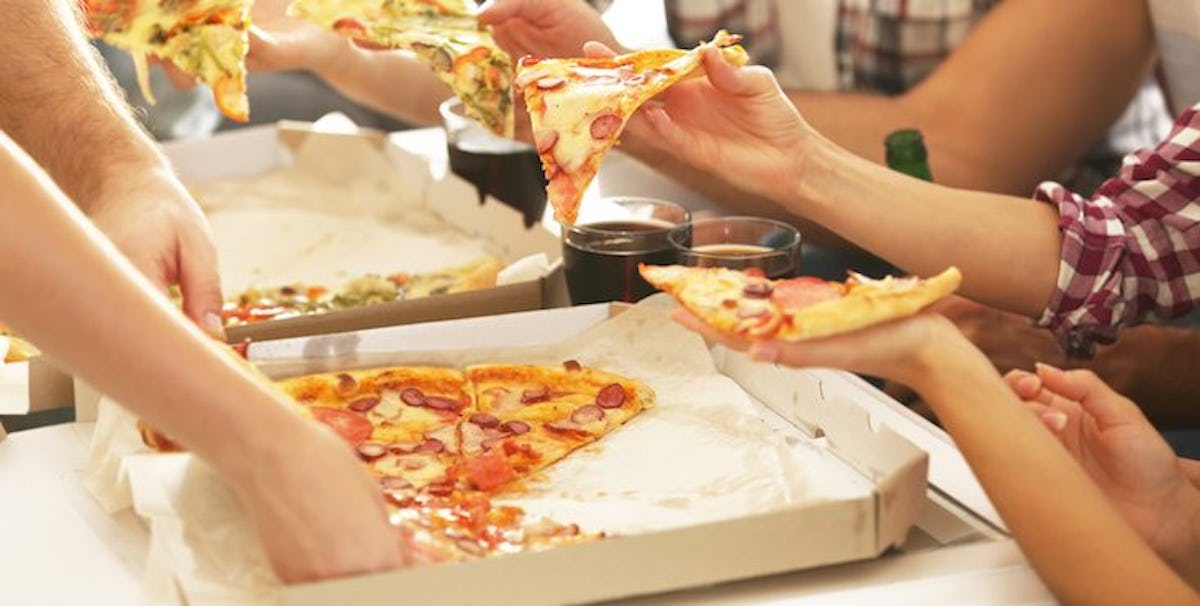 Pumpkin Spice Pizza Is Here And It's Officially The Best Snack Of The Season
Africa Studio/Shutterstock
Fall is officially here, which means it is now socially acceptable to indulge in pumpkin spice-flavored everything. I'm talking pumpkin spice candles, coffee, candy, Oreos, and of course, pumpkin spice pizza? No, that wasn't a typo, pumpkin spice pizza actually exists, and though it sounds kind of weird, I would be lying if I said I wouldn't give it a try. The logical next question would be, "Where can I get pumpkin spice pizza?" Lucky for you, I have the answer.
The masterminds behind this pizza concoction is none other than pizza innovators, Villa Italian Kitchen. They have created the pumpkin spice pizza to celebrate the first day of fall, and daring foodies can pick up one of these autumn pies as early as Sept. 22 while supplies last. But how exactly is pumpkin spice incorporated into this pizza, and does this combination of flavors actually work?
Cosmopolitan reports Villa Italian Kitchen will add a layer of pumpkin spice puree to the interesting pumpkin spice pizza. Now, I'm no food expert, but this combination doesn't seem right. I get the juxtaposition of sweet against savory, but pumpkin spice puree along with melty cheese and pepperoni? You have to have a strong stomach, a very open mind, and a daring palette for that.
Villa Italian Kitchen recently shared an Instagram post about their fall time pizza, and here is what they had to say about it:
We know you crave that warm pumpkin spice flavor at this time of year. So we've created a delicious marriage of a classic Villa Italian Kitchen cheese pizza and all the cozy, seasonal flavors of fall just for you. Available nationwide on Friday, September 22, in honor of the first day of fall.
Apparently, this is not the first time pumpkin spice pizza is attempted. In 2016, we reported about pizza enthusiast, Anthony Rotio, who also took to Instagram to share his creative pumpkin spice pizza pie. This pizza was little different than the one Villa Italian Kitchen created, though. It was made with mozzarella and ricotta, along with a layer of pumpkin spice puree.
In a statement to Cosmopolitan, Rotio said he loved the idea of a pumpkin pie and that he only had to come up with a few additional ingredients to tie his pumpkin spice pizza together. See a photo of the original PSP below.
Rotio is quite the inventor in his own right having created what he calls the Pizza Shelf, which allows users to make Neapolitan style pizza using their home oven. Just imagine making your own pumpkin spice pizza in your own home; seems like something straight out of an autumnal dream.
If you are not into the idea of making your own pumpkin spice pizza at home, make sure you head over to your local Villa Italian Kitchen on Sept. 22. If Villa Italian Kitchen sounds familiar to you, it probably is. Earlier this summer, they created a pizza bikini that was made to order. The made-to-order pizza was cooked using the freshest ingredients, and it was sold for a whopping $10,000... which is a lot of money for pizza you can wear.
At this point, I'm just curious to see what pizza invention Villa Italian Kitchen is going to come up with for Christmas. Will they create a peppermint pizza? A fruitcake pizza? What about a gingerbread pizza? I guess we will just have to stay tuned to see what else they come up with. Either way, I'm definitely excited.
Check out the entire Gen Why series and other videos on Facebook and the Bustle app across Apple TV, Roku, and Amazon Fire TV.