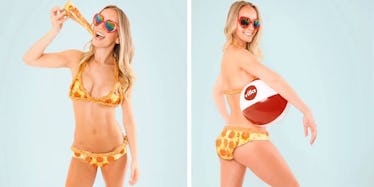 A Bikini Made Entirely Out Of Pizza Is Coming, But You Probably Can't Afford It
Villa Italian Kitchen
National Bikini Day is July 5 (honestly who comes up with these holidays?), and to commemorate this very special day, a pizza place has teamed up with a food stylist to create one thing the world is missing in 2017: a pizza bikini.
That's right folks, Villa Italian Kitchen has partnered with popular food stylist, Jessie Bearden to create a two-piece bikini made from actual pizza.
More like, wears the pizza!
This cheesy swimsuit will be sold in limited quantities on July 5. But before getting your hands on this doughy swimsuit, you'll need to have your measurements handy, and then you'll need DM said measurements to Villa Italian Kitchen on Facebook.
Once you have completed the previous steps, all you need is $10,000 to complete your order -- and voilà, you have yourself a handcrafted pizza bikini that you'll get to keep for... a few days?
If you need more convincing in order to spend $10,000 on pizza, let me tell you a little more about the ingredients used to make this tasty swimsuit.
The pizza bikini of your carb-filled dreams will be made using the freshest 100 percent whole milk mozzarella cheese, sauce made from fresh California tomatoes, yummy pepperoni, and homemade, hand-braided dough.
Well, are you sold now?
Yeah, I'm not too sold on this bikini either, and many on Twitter share my sentiment -- but no one expressed it more eloquently than Twitter user @AndrewEdwards.
I feel ya, Andrew.
If you aren't gung-ho about spending $10,000 on a perishable bikini, I have a few cheaper alternatives you might want to consider.
You can DIY your very own pizza bikini using a box of your favorite pizza — which won't hurt your wallet at all and might be great for your IG feed.
You can also get yourself a pizza-themed bikini anywhere pizza-themed bikinis are sold. I wonder who is actually going to buy the pizza bikini? I guess we'll have to stay tuned.