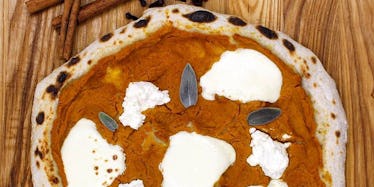 Pumpkin Spice Pizza Is Here To Make All Of Your Basic Dreams Come True
Instagram
Summer '16 is officially OVER.
With the fall season just hours away, it's important that you gear up in the most basic way possible -- with pumpkin spice everything.
When I say "everything," I don't just mean your standard Pumpkin Spice Latte from Starbucks. What I mean is the other pumpkin spice treats this basic-ass world has to offer...
Like pumpkin spice pizza! It's true, pumpkin spice just found a whole new way to get even more basic -- by existing in pizza form.
This fall-themed culinary concoction is the work of Instagram user Anthony Rotio, a diehard pizza enthusiast.
Behold, pumpkin spice pizza. No, you're not dreaming.
It's VERY real. Move over, PSL. Make way for PSP!
This basic treat is for only the most basic people out there. If you found yourself drinking countless Pumpkin Spice Lattes last fall, you'll love this special pizza.
According to Rotio's photo caption, this particular pumpkin spice pizza was made with nutmeg, cinnamon, honey, mozzarella cheese made using cow milk, ricotta cheese, sage and, of course, PUMPKIN.
I can just feel the unbelievable excitement emitting from the basic community. They're SO AMPED for this.
So, how did this recipe even come about?
Anthony Rotio spoke to Cosmopolitan, saying,
I liked the idea of a 'pumpkin pie. Once the fior di latte-PSL pun clicked in my head, it was just a matter of picking a few more ingredients that worked together.
Rotio, who is originally from New Jersey, invented a device appropriately called the Pizza Shelf. The oven, which is patent-pending, allows pizza lovers to bake Neapolitan pizza using temperatures of up to 800 degrees.
The pumpkin spice pizza was born in this particular device -- so you know it's real.
Citations: Pumpkin Spice Pizza Is Now a Thing (Cosmopolitan)