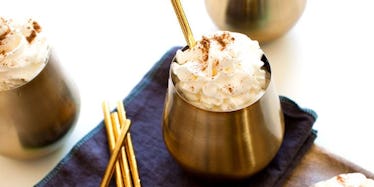 6 Pumpkin Spice Cocktails To Help You Live Your Best Basic Life This Halloween
Sparkling Ice
Is it just me, or does Halloween lose a bit of its spark once you graduate from college? Unless the office hosts some kind of soirée or themed happy hour, adulting on Halloween translates to wearing a black witch hat to work in an attempt to be festive, giving out instead of receiving bite-size versions of your favorite candy, and having no shame in stocking up on half-price treats come Nov. 1. Instead of accepting this harsh reality, celebrate this Halloween like it was an Insta-worthy story complete with costume contests, witches' brew brownies, and pumpkin spice-flavored cocktails, because it just doesn't get more basic than that.
Halloween is less about getting candy and more about getting boozy post-undergrad. The trick to hosting a Halloween party is to treat guests with something sweet to nibble and sip on throughout the evening. Hard cider is always an option, with seasonal favorites like Angry Orchard's Pear Cider and Redd's Apple Ale making a comeback, but in addition to traditional apple, don't you think it's time pumpkin spice made an appearance in your favorite cocktails?
Personally, I'm a PSL addict, and once Sept. 1 comes around, I'm putting pumpkin in my coffee, oatmeal, cookies, and will scout out any and every limited edition flavored food item to get my fix. How I never thought of sipping a pumpkin spice-flavored cocktail through the holidays until now, though, is beyond me.
If you're as intrigued as I am, check out these pumpkin spice cocktail recipes to help make your Halloween soirée the booziest, most basic celebration of the year.
1. Sparkling Pumpkin Spice Cocktail
Care for a glass of bubbly?
Sparkling Ice's carbonated cocktail is the perfect combination of your favorite autumnal flavors. The recipe calls for a tablespoon of pumpkin purée for a little bit of sweetness, Sparkling Ice Crisp Apple zero-calorie water, and honey whiskey. Top each glass with a dollop of whipped cream and a sprinkle of pumpkin pie spice for a festive buzz.
2. Magical Martini
Who ever said alcoholic treats can't be at least semi-healthy?
Compliments of Cocktail Recipes Blog comes a martini made for ghoulish gals and gents who care to indulge, just not too much.
Featuring Bethenny Frankel's Skinny Girl Bare Naked Vodka (a personal favorite), unsweetened pumpkin, and fat-free condensed milk, guests will love the frothy top layer garnished with pumpkin spice.
3. Pumpkin Spice Hottail
If your crowd prefers hot toddies over fireball shots, CBC's cozy pumpkin spice recipe is a comfy cocktail perfect for celebrations that plan to be a little more mellow.
Instead of ground seasoning, this recipe calls for a drizzle of pumpkin spice syrup for sweetness. Mix two to three tablespoons with ground cinnamon, the juice of an orange, hot apple cider, and Bourbon for a warm beverage to sip on in between answering the doorbell for trick-or-treaters and catching up with friends.
4. Pumpkin Pie In A Glass
Now this is a chilled beverage you can cheers to.
Even though I'm well aware that, come September, everything turns to pumpkin spice, I still get excited when I discover new items adopting the flavor. The Woods Tavern shared its own limited edition special, complete with pumpkin spice liqueur (how did I not know this was a thing?), Kahlua, and milk.
This bad boy is heavy on the booze, so go easy this Halloween, friends.
5. Dainty Daiquiri
I drank my first ever daiquiri when I was in the seventh grade. It was strawberry, virgin, and topped off with a tower of whipped cream. I thought no drink, alcoholic or not, could be better than that -- until now.
Restless Chipotle blogger Marye's fall cocktail sounds like a dream. Her southern charm shines through her mixture of spiced rum, butterscotch schnapps, and pumpkin purée, on top of a medley of spices and syrups.
It sounds fancy, tastes decadent, but will only take about five minutes to make, which means you don't need a ton of time pre-party to whip up a few glasses. You can even save the prep for during your soirée to show off your epic bartending skills.
6. Pumpkin Smash
Even if you're not all about PSL season, this spiced cocktail from Cake 'n Knife might still turn you on.
Probably the best and easiest pumpkin spice cocktail to make in large batches (ideal for the over-the-top party host), the recipe is divided into three parts: the actual beverage, pumpkin spice simple syrup, and cinnamon rimming sugar for taste and decoration.
With this bubbling beverage in hand, guests are sure to have a blast -- or, should I say, smash?