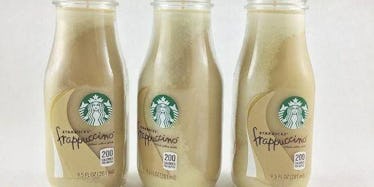 Pumpkin Spice Latte Candles Exist And They'll Make Your Bedroom #Basic For Fall
While we've been waiting patiently for the Pumpkin Spice Latte to finally hit Starbucks, a PSL hero started selling Pumpkin Spice Latte candles on Etsy. These delicious fall candles will make you feel as if the leaves have started falling in Central Park, even if you find yourself in your muggy bedroom. I'm so ready for these.
The candles -- which have already sold out -- were being sold by Double Brush on Etsy for $16.74. The soy candles come in a recycled Starbucks Frappuccino glass bottle and they look just as beautiful as they smell. Let's hope they re-stock quickly so we can buy a few.
If you're wondering what the PSL candles smell like, check out Double Brush's description. I dare you not to buy one after reading this:
Our yummy frappuccino candle smells like coffee with sugar & cream, and notes of vanilla, chocolate, and hazelnut.
Take my money! The best part of these PSL candles is that they come with eight ounces of wax, so you can burn your candles as long as your heart desires — or as long as your candle lasts. Now, if you're a little concerned about how sanitary the recycled Starbucks Frappuccinos are, don't fret: Double Brush assures their customers that each bottle is carefully sanitized, washed, and dried to ensure that they are safe for use.
If you aren't too keen on the cinnamony goodness of the PSL candle, there are other Starbucks options as well including a caramel, vanilla, coffee, and mocha Frappuccino. These candles can make a great gift for a loved one, or a loving gift for yourself.
Double Brush also sells an array of awesome candles for everyone's tastes. There's a Corona candle for the person who loves a good beer, Izze candles for those who love their fruity fizzy drinks, and there's even a brie candle for that person who just loves cheese too much. Gotta love the candle innovation.