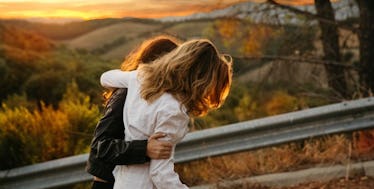 6 Most Breathtaking Fall Foliage Trips To Plan With Your Girl Squad In Your 20s
There's something about the fall that evokes the wanderlust in us all. Sure, jetting off to a tropical paradise in the summer is absolutely spectacular, but there's truly nothing like a getaway revolving around the exquisite fall foliage (and pumpkin beer, of course). As the end of the warm season comes to a close, our minds wander elsewhere… to replacing our distressed denim shorts with flannels, sipping on pumpkin spice lattes, and hitting up wineries in the northeast.
For those of us who find it extremely difficult to bid farewell to the surf and sand, we're greeted with a crisp new season that holds endless possibilities. No questions asked, booking a fall foliage trip with your girlfriends in your 20s is essential. Whether you're in college, or working full-time, it's imperative to pencil in some strictly fun girl time with your besties.
Here are the most beautiful spots to plan your upcoming autumn vacation.
1. Stowe, Vermont
Beautiful Stowe #Vermont in Fall - known for skiing, hiking, mountain-biking, and and spas... #travel #traveler #ttot #travelphotography pic.twitter.com/pz1B4T5wwf — Wayne Dunlap (@wdunlap) July 15, 2017
This popular skiing destination looks like a picturesque scene straight out of a fairytale in the fall.
The girl squad who's all about hiking and mountain biking will have an awesome time exploring the outdoors. Hit up Stowe Cider to sip on some of the best hard ciders Vermont has to offer, and take a short drive to the Ben & Jerry's factory to snack on something super sweet.
2. Munich, Germany
autumn. fall season RT @Globe_Pics: Munich, Germany pic.twitter.com/Qju7CaIGuC — Syifa (@Rt_Syifa) December 22, 2013
A bike tour through Munich in the fall is seriously necessary to experience the gorgeous foliage.
Obviously, you ladies have to break out your dirndls and spend a couple of days at Oktoberfest raising your beer steins.
The English Garden is another must-see, as it beholds the Chinese Tower (an outdoor beer garden), as well as surfers shredding it up in the river.
3. Aspen, Colorado
This is what fall in Aspen - Colorado, looks like: pic.twitter.com/luxg2nWIQU — Divine Star (@Its_stars_world) June 14, 2017
If you're looking for the quintessential fall experience, Aspen has you covered.
From exploring mountain and trails, to beautiful gondola rides and the awesome Aspen Brewing Company, this trip will not disappoint.
Take a ride up to the top, and soak up the unparalleled #views.
4. The Berkshires, Massachusetts
RT @SteveOhz: Fall Color in The Berkshires @JimCantore pic.twitter.com/xvKcQ0GSXj — PaulDavisRestoration (@PDRestoration) November 4, 2016
The Berkshires promise a plethora of fun festivals throughout the season, including the Fall Foliage Festival and the Lenox Rhubarb Festival.
I don't know about you, but I'll be hitting up that rhubarb fest like it's my job (yum).
Sign up for a wine and paint night, and spend your afternoons relaxing at a spa, such as Canyon Ranch.
5. Upper Peninsula, Michigan
This week on the blog: "Upper Peninsula of Michigan" https://t.co/MLO2mZ7ulV pic.twitter.com/ymnaX20nAw #fall #michigan #PureMichigan #nature — Rachel Cohen (@RCNaturephotos) November 17, 2016
What's truly incredible about this destination is it boasts Fall Color Tours that highlight the area's unparalleled shores of three of the Great Lakes, as well as beautiful lighthouses, waterfalls, and acres upon acres of foliage.
I mean, come on, show me autumnal views more breathtaking than this place. You're guaranteed to get the best pictures for the 'Gram.
6. The Adirondack Mountains, New York
Adirondack Mountains, USA "The fall colours are so vibrant its unreal." By https://t.co/nPgQ8A2u8ghttps://t.co/1DVYAvhQDM #travel pic.twitter.com/tAHCGluNI4 — 101 Sunsets (@_101Sunsets_) May 14, 2017
Between gondola rides and horseback riding, to balloon flights and whitewater rafting, the Lake George region of the Adirondacks has many amazing activities to enjoy throughout the fall season. This getaway was made for the squad who's down for adventure.
Make the most of this trip by renting a cabin on the lake. Before you know it, it'll be time to pack up your flannels and hit the road!