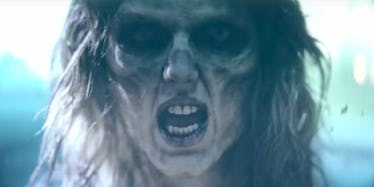 Here's How To Pull Off The "Dead Taylor Swift" Halloween Costume
YouTube
Pay homage to Taylor Swift while simultaneously winning Halloween. "How is this possible?" the crowd wailed. "That's an impossible task!" others sneered. Not this year, friends. Dead Taylor Swift Halloween costume ideas are here and they're pretty epic.
Dead Taylor has gotten tons of attention. Not just because Swift transformed into a scary (yet comical) zombie, but because it's not just the old Taylor who died — it's also Swift's reputation. In the music video, dead Taylor rises out of a grave that says "Here lies Taylor Swift's reputation." Chilling. You, too, can carry this chip on your shoulder all Halloween long. Better yet — try and save Swifty's reputation by being the best dead Taylor you can be.
With Swift releasing tons of new music videos, there is inspiration everywhere. I personally think that dead Taylor Swift is the way to go. It's an actually scary Halloween costume (who does that anymore?) and you get to quote "Look What You Made Me Do" all night.
"I'm sorry, the old Taylor can't come to the phone right now."
"Honey, I rose up from the dead, I do it all the time."
"Look what you made me do." Can be said after any party foul.
"Cause she's dead." Your friends will hate you after the millionth time you say this — worth it.
"Maybe I got mine, but you'll all get yours." Amazing to say after losing a game of flip cup.
If that hasn't convinced you... you may actually be dead. Here's how to put the look together.
It all starts with the makeup.
The Taylor Swift zombie makeup tutorial above is for the brave, makeup-savvy people out there. If you like to go bananas for Halloween, more power to you. I'm dying to see your pics — pun intended #elitezombieswift. If you want to achieve this look with a little less intensity, go for the black palette at the Halloween store. Use it to shade around your eyes, cheekbones, and nose. Buy a little extra to emulate the dirt on her face, too. You know, she did just dig herself out of a grave.
Girl, get you some freaky contact lenses.
If you splurge on one item for the dead Taylor costume, I think the this should be it. Color contacts are the coolest thing on earth. Contacts that white out your iris will make everyone frightened and jelly of you. The white eyes juxtapose to the haunting black makeup will make you one ah-mazingly dead Taylor.
Find a thrift store dress you don't mind ruining.
Dead Taylor is sporting a light blue, chiffon, sleeveless dress. Luckily, the lighting is a little wonky so any shade of blue, even white, will work for this. I guarantee you will be able to find something that resembles this dress at a thrift store. Go cheap on this purchase. Here's why — take your dress and make it filthy. Personally, I think the easiest (and most authentic) way is to just rub it around in some dirt outside. If you don't want to wear an actual dirt covered dress, strategically use black and brown spray paint.
Low maintenance hair is your best friend.
Get ready for the easiest hair of your Halloween career. If your hair is light, you can use black or brown hair paint (can be purchased at the Halloween store) to create that dirt look. If your hair is darker — congrats, you're already one step ahead. Use hairspray, gel, or salt spray to create this messy, scrunched look. Even if it looks like a tangled mess — it's totally working.
There you have it — dead Taylor in 3 easy steps. I really think everyone can pull off this costume. Have fun with it, and don't be afraid to let your inner Taylor-Swift-freak flag fly. Oops, look what you made me do.