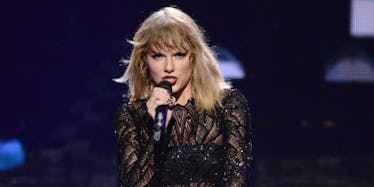 Taylor Swift Rapping On "Ready For It" Has Everyone On Twitter Making The Same Joke
Kevin Mazur / Getty Contributor
OK, it's here. "Ready For It" officially dropped early on Saturday, Sept. 3, not even a full 12 hours after Taylor Swift released a one-minute teaser on her Instagram story and during the Alabama and Florida State college football game. The song is Tay Tay like no one has ever seen or heard her before, and even though the lyrics are pretty wild, the tweets about Taylor rapping on "Ready For It" prove that the internet just can't handle that verse. And TBH, neither can I.
She's rapping, you guys. Rapping. The first clue about "Ready For It" and the fact that the song was going to be a little something extra came when Swift dropped the official name (and it's also worth pointing out that the song is, conveniently, the first track on Reputation). Instead of titling the song "Ready For It," and just leaving it as is, Swift went ahead and named the song "... Ready For It?" ellipses, question mark, and all.
Yep. She's going there.
As if that was enough (psh, come on, you already know it never is) the lyrics to "... Ready For It?" just really hammer home the fact that the country-bopping Tay Tay really is dead now. Look at the first verse:
Knew he was a killer First time that I saw him Wonder how many girls he had loved and left haunted But if he's a ghost then I can be a phantom Holding him for ransom Some, some boys are trying too hard He don't try at all though Younger than my exes but he act like such a man so I see nothing better, I keep him forever Like a vendetta
No wonder fans are losing it.
Swifties Aren't Surprised
Others Weren't As Impressed
And Then There Was This Tweet
You go, T-Swizzle.