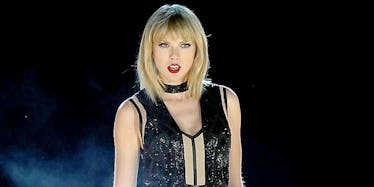 Here's How To Listen To Taylor Swift's New Single, "Look What You Made Me Do"
Garry Miller / Getty Contributor
After a week of weird, snake-themed teases, Taylor Swift finally released new music late on Aug. 23. And if you were hoping to listen to Taylor Swift's "Look What You Made Me Do" on Spotify, I have some good, surprising news. Even though Swift just recently joined Spotify and has represented Apple Music, her new single is already available to stream on Spotify and many other places. That's right, it became available pretty much everywhere at the same time that it dropped on iTunes.
That's great news for anyone who wants to hear the new song, but doesn't necessarily want to buy it, which TBH probably describes a lot of people. Between Swift's snake Instagrams and the very title of the song, many people assumed the single would clap back at Kim Kardashian and Kanye West, and that's pretty much what it does.
The "Look What You Made Me Do" lyrics reference a list of names and huge feud, so it's pretty easy to connect the dots. That means that whether you're a fan of Swift's music or not, this song is a big deal, and will probably be talked about for weeks to come. So one way or another, you're going to want to listen to it, and Swift has given us plenty of options.
First, there's Spotify. The song is already streaming there, so if you have a Spotify account, go ahead and listen — or check it out below.
If you're more of an Apple person, you can also stream the song on Apple Music right now. Or if you'd rather own the song forever, you can purchase it on iTunes, where Swift's entire new album, Reputation, can also be pre-ordered ahead of its Nov. 10 release.
One of the few who chose Tidal as your streaming service of choice? Don't worry, "Look What You Made Me Do" is available there too.
Even if you don't have any of the above, you can still listen to "Look What You Made Me Do," since Swift uploaded a lyric video of the song to her official YouTube page. You can easily listen to (and watch) that version for free on YouTube or below.
Basically, Swift wants to make sure everyone hears this song and has made listening to it as easy as possible. Now the only question is, once everyone hears her digs at Kim and Kanye on "Look What You Made Do," whose side will they be on?