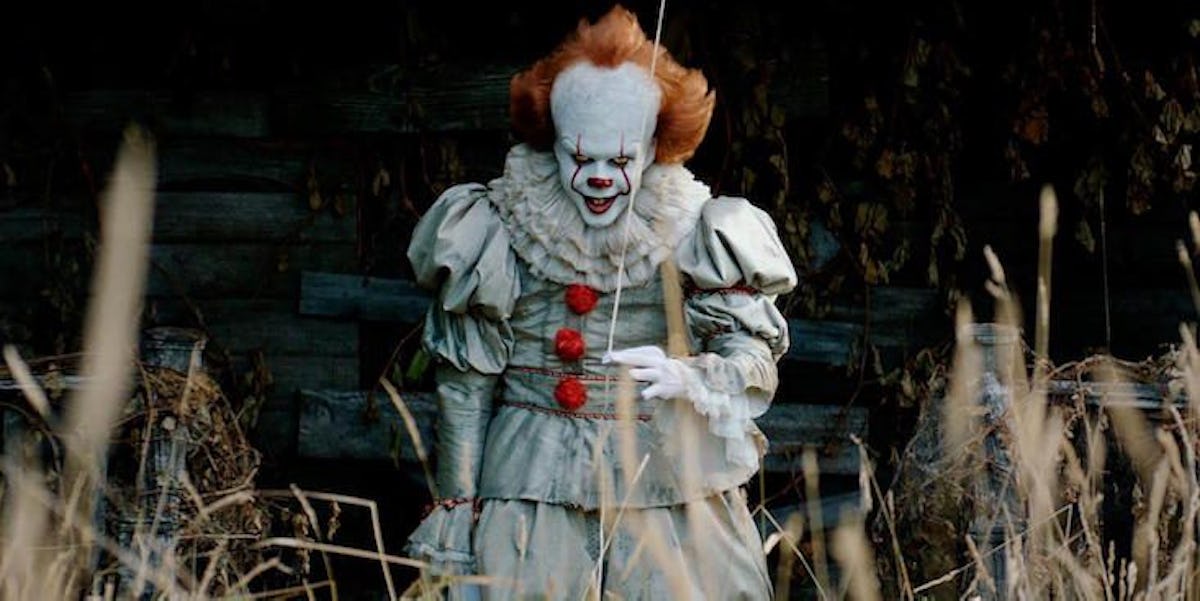 Easy 'It' Halloween Costumes To Scare Your Friends With This Year
Warner Bros.
If you really want to terrify your friends while also being super relevant to pop culture this Halloween, then the perfect costume choice is obvious. Though Pennywise the Clown has been around for decades since Stephen King first published his novel It in 1986, the murderous clown demon got a twisted makeover this year when Bill Skarsgård picked up the iconic red balloon that Tim Curry first made famous. You can get the horrifying, updated Pennywise look with these easy It Halloween costumes below.
The 2017 version of It came at just the right time to make your Halloween decision this year a total no-brainer. Not only is the demonic clown look probably the most terrifying, nightmare-inducing thing most anyone has ever seen, but the new movie also premiered less than two months before it was time for everyone to go Halloween shopping. That makes Pennywise the perfect blend of horror and timely pop culture to be the must-have Halloween costume of the year. Oh, and not to mention killer clown somehow became such a trendy thing recently thanks to both It and American Horror Story: Cult. To get in on the creepy clowning around this year, here are a bunch of Pennywise costume options for you to check out.
1. eBay
For a cool $62, this carbon copy of Bill Skarsgård's costume from the new It movie can help you give all your friends nightmares for life. The frilly clown suit comes with a mask and shoes as well, so you don't have to run all over Derry to put the costume together.
2. Costume Party World
Pennywise the Clown Cosplay Costume, $170, Costume Party World
Though the eBay look is cheaper, this more precise recreation of Skarsgård's updated Pennywise costume lets you customize it so that it will fit you perfectly. Yes, it is a pretty steep investment at $170, but the benefit is that the retailer carries it in a vast array of sizes, from XXS to XXXL, and everything in between. It even lets you select the shoe size as well. If you were running into trouble finding a costume that fits you just right, this get-up available on Costume Party World's website is the way to go.
3. Party City — $54.99
Plus Sized Adult Pennywise Costume, $55, Party City
For fans of the classics, you can also take it back to the '90s and recreate the iconic It look that Tim Curry made famous in the 1990 miniseries. The OG Pennywise look is available on Party City's website for $55.
4. Do It Yourself
Men's Pirate/Victorian Frilly Shirt $33, eBay  |   Killer Clown Makeup Kit, $8, Spirit Halloween  |   Red Clown Wig, $18, Walmart
For many people, half the fun of Halloween is putting together your own, unique costumes instead of just ordering already put-together looks. Luckily, Pennywise is a costume that you can have a fun time piecing together yourself. All you really need is a frilly shirt, some makeup, and a wig. Oh, and don't forget to add some of the finishing touches that will clarify you're Pennywise and not just your generic, run-of-the-mill killer clown: pop in some sharp fangs and blow up a red balloon that you can carry with you throughout the night.
Use the options I have listed above as a guideline for what to look for — those items will set you back about $65 altogether, but you can probably find cheaper versions that will work for you. Check out your local thrift stores and costume shops for shirts, makeup, and wigs that you think are best for the costume, and go for your own, unique take on the horrifying monster from It.