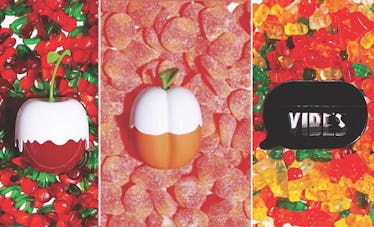 KKW Fragrance Is Having A Big Labor Day Sale AND A Kimoji Fragrance Restock
KKW Fragrance/Instagram
What's the only thing in the beauty world more exciting than a brand new product launch? A restock of a popular limited-edition product you thought was gone for good, of course. In this case, Kim Kardashian has blessed us with the return of her latest trio of Kimoji Fragrances, and the Kimoji Fragrance restock will hit the KKW Fragrance website way, way sooner than we were expecting — and with a KKW Fragrance Labor Day Sale, to boot.
When we were first introduced to round two of the Kimoji-shaped KKW fragrances back in July, fans couldn't get enough of the Vibes, Peach, and Cherry bottles, and after hurriedly placing their orders, lots of people got their hands on each. It was confirmed that all three smelled as great as they looked placed on one's nightstand for a casual home decor moment on Instagram.
Unfortunately, those of us who didn't snag them when we had the chance were devastated, sure our chance was gone for good. However, when a KKW Fragrance email slid into my inbox alerting me of a restock and a Labor Day Sale, I immediately said a quick prayer of thanks to Kim, and marked the occasion on my Google Calender, so I would be alerted to sign onto the site just before the launch went live.
SO when is the restock? TOMORROW, thanks for asking.
In honor of Labor Day, all three scents will hit the site on Aug. 30, at 12 p.m. PST. I normally love surprises, but I have to admit, I'm not overly thrilled at taking my end-of-the-month rent money and blowing it on three new fragrances. Alas, the heart wants what it wants, so my roommates will just have to make due, as my funds are needed elsewhere.
If you're only planning to scoop up one scent, I suggest reading the fragrance descriptions in addition to simply picking your favorite bottle, as each has its own unique notes. Kimoji Peach ($45, kkwfragrance.com) is the freshest scent, with notes of nectarine, peach, mandarin, baies rose, jasmine petals, peach blossom, sandalwood, creamy vanilla, and musk. Kimoji Vibes ($45, kkwfragrance.com), on the other hand, contains notes of sparkling bergamot, watery melon, pineapple, apple blossom, peony petals, jasmine, cedarwood, amber, and musk. Finally, Kimoji Cherry ($45, kkwfragrance.com) the sultriest of all the scents, contains notes of cherry, raspberry, strawberry, cherry blossom, gardenia petals, vanilla orchid, whipped vanilla, blonde woods, and musk.
In addition to the restock, KKW Fragrance will also be offering a fun LABOR DAY SALE, for any fans of the rest of Kim's fragrances.
The brand is offering 25 percent off classic KKW Fragrance scents, like Crystal Gardenia ($60, kkwfragrance.com), Crystal Gardenia Citrus ($60, kkwfragrance.com), and KKW Body ($60, kkwfragrance.com).
There's no telling if any of the fragrances will sell out during the restock, but if not, then you've got until the sale's official end on Monday, Sep. 3, at 11:59 p.m. PST to snag them.
If I had to guess, I think it will be Kimoji Peach that sells out the quickest, if only so fans can recreate Kim's bootylicious Instagram post before summer ends.