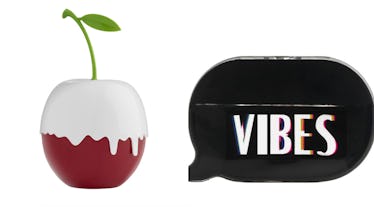 Yes, The New KKW Kimoji Fragrances Smell Just As Sweet & Fruity As They All Look
KKW Fragrance
When it comes to buying perfume online, packaging is pretty much everything. We haven't yet perfected scratch-and-sniff computer screens (I'm waiting), so for me to add a fragrance to my cart, I've got to like the look. Kim Kardashian West's latest venture, the KKW Fragrance Kimoji perfumes, have definitely won me over on packaging — I need Vibes on my vanity, stat. But at first glance, the cutesy bottles did have me wondering: What exactly do the new Kimoji Fragrances smell like?
When I think of Kim K, I think womanly, sexy, and sultry. When I think of emojis, I think young, fun, and silly. Kimojis are a breed of their own, a sassy combination of both, so when I heard about the new fragrances, I wasn't sure if they'd smell mature and romantic, or more like the body sprays I stashed in my locker during high school. The original Kimoji fragrances, launched around Valentine's Day, were not only adorably packaged as conversation hearts, but also sweet-smelling and insanely popular.
I could somewhat guess what the Peach and Cherry scents might be like, but I've never necessarily smelled a "vibe." So even though Vibes won my pick for best packaging, I was totally clueless as to the scent. My biggest fear would be to shell out for a perfume, only to realize the scent didn't suit me.
With the above worry at the forefront of my mind, I waited patiently for KKW Fragrance to give us a breakdown of each perfume's notes, and now that the secrets have been revealed, I'm happy to announce I'll be buying them all (as if there was ever any real doubt).
Kimoji Peach ($45, coming July 17 to kkwfragrance.com) smells perhaps the most in-line with the bottle's design: fresh and fruity, but also a little creamy. According to the website, nectarine, peach, mandarin, baies rose, jasmine petals, peach blossom, sandalwood, creamy vanilla, and musk are all major notes. Combined, the scent is juicy but warm, and it seems like the perfect pick to spritz on for girl's night out or a first date.
Kimoji Vibes ($45, coming July 17 to kkwfragrance.com) is a more playful, vibrant scent, with notes like sparkling bergamot, watery melon, pineapple, apple blossom, peony petals, jasmine, cedarwood, amber, and musk. This one definitely strikes me as more of a daytime scent, even though the bottle will look great in your getting-ready Snapchats before a night out.
Kimoji Cherry ($45, coming July 17 to kkwfragrance.com) is described as "the smell of sweet temptation," so this one's definitely a nighttime scent. Notes include cherry, raspberry, strawberry, cherry blossom, gardenia petals, vanilla orchid, whipped vanilla, blonde woods, and musk.
Even though each scent is so unique, I can totally see Kim K rocking all of these different fragrances, given how much her routine changes day to day.
I imagine her spritzing on Peach to freshen up before meeting the girls for quality time and an Instagram photo session:
I have a feeling she wears Vibes in her everyday life, like a casual day spent with family:
And I just know she's layering on Cherry when she and Kanye have some alone time:
Granted, my life isn't quite as exciting as Kim's, but I can still find uses for all three of the new Kimoji fragrances in my life. If you feel the same, you can snag them all on the KKW Fragrance site on July 17 at 12 p.m. PT. However, if you're lucky enough to live in the Los Angeles area, then you can snag these babies IRL at the KKW Beauty pop-up shop.