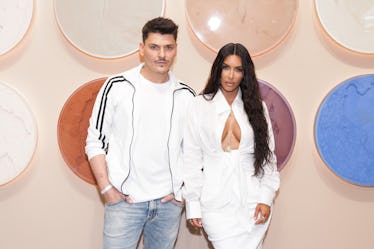 The Inside Of Kim K's KKW Beauty Pop-Up Shop Is A Dream & I Want To Live There ASAP
Presley Ann/Getty Images Entertainment/Getty Images
If you're an avid fan of Kim Kardashian's beauty line, KKW Beauty (and also happen to live in the Los Angeles area), then you've probably been waiting for this day to come. Well, the wait is over, as the reality star opened her first-ever, in-person shopping experience today. And let me tell you, the inside of the new KKW beauty pop-up shop is, of course, stunning.
As announced last week, from today, June 20, until July 27, lucky L.A. locals (and any KKW Beauty-obsessed fans willing to travel) will be able to shop products IRL from both the KKW Beauty and KKW Fragrance Lines, including products that previously sold out online, limited edition collections, Kimoji x Lumee merchandise, and more at the KKW-Beauty pop-up. Of course, no launch is ever complete without a teaser via social media of what can be expected. Last night, Kardashian and a few people close to her took to Instagram to share a few glimpses of what fans could expect the first-ever KKW Beauty pop-up to look like. Naturally, it did not disappoint.
By the looks of it, the whole space is covered floor-to-ceiling in the same soft, nude-pink as the KKW Beauty packaging. The wall decor includes enlarged versions of the KKW Fragrances, huge versions of the latest KKW Beauty Concealers, Contour Sticks, the KKW x Mario Eyeshadow Palette, and more. There even appears to be a very large cut-out of the KKW Body Fragrance — because what would a Kim K pop-up be if it didn't have a silhouette of Kim's curves on display?
Up until now, the KKW Beauty shopping experience has been limited to the online site, and that's if you've been lucky enough to cop one of the launches before they sold out. But now, thanks to Kim following in her youngest sister Kylie's footsteps and opening her own in-person shopping experience, customers will not only be immersed in the Kim K aesthetic, but will be able to swatch, test, smell, and play with all of the products that the KKW Beauty empire has to offer.
For those looking to bask in the Kim K wonderland and experience the KKW Beauty shopping experience firsthand, the pop-up is located at Westfield Century City in Los Angeles. The shop will be open Monday through Thursday from 10 a.m. PT to 9 p.m. PT, Friday and Saturday from 10 a.m. PT to 10 p.m. PT, and on Sunday from 11 a.m. PT to 7 p.m. PT. The list of merch available includes some fan-favorites, like the KKW Beauty Concealer Kits, the KKW Beauty Crème Contour & Highlight Kit, KKW Beauty Highlighter Palettes I & II, KKW Beauty Ultra Light Beams, the KKW x Mario Collection, Crystal Gardenia by KKW Fragrance, KKW Body Fragrance, KKW Crème Lipsticks and Lip Liners, and finally, Kimoji x Lumee Merchandise.
Aside from providing the shopping trip of a Kardashian-lover's wildest dreams, the KKW Beauty pop-up also has an exclusive calendar of special events, which includes days like June 21, which is National Selfie Day and the first anniversary of KKW Beauty; June 30, which includes a private opening celebration hosted by Kim and Mario (that you can have the opportunity to attend if you purchase products during the first week of the pop-up's opening), and July 14, which is the launch of a new Kimoji fragrance.
Now, if you're not completely overwhelmed by the idea of shopping KKW Beauty IRL (and standing in what I imagine to be a very long line), then I wish you (and your bank account) the best of luck. Be sure to snap plenty of selfies, because what else would you do in a space designed to embody the world of Kim K?