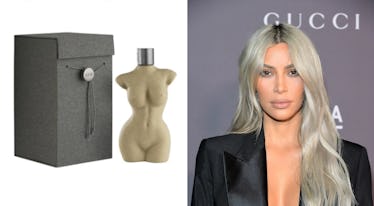 Kim Kardashian's New Fragrance Smells Like Spring & Summer Are In Full Bloom
KKW Fragrance // Charley Gallay/Getty Images Entertainment/Getty Images
It's been less than a week since Kim Kardashian released a literal miniature mold of her naked body as a perfume bottle, and I haven't been the same since. I never expected mini Kim Karadshian's body to change my life so much, but here we are. If the bottle's concept design doesn't necessarily intrigue you as much as it intrigues me, and you need a little convincing before you drop some cash on this scent, you might be wondering what KKW Body smells like. You mean you don't just blindly buy any fragrance based on the bottle design alone and hope for the best when it comes to the actual smell? WHO EVEN ARE YOU?! Just kidding. That's fair.
Well, luckily for all of us, before KKW Body even launched, Kim dropped the different notes of the fragrance on social media to give customers an idea of what they were getting themselves into. According to the KKW Fragrance website, overall, the fragrance is essentially a delicious blend of "juicy peach nectar, jasmine, golden amber and more."
[KKW Body is] a narcotic elixir that offers an opening of bright, energetic bergamot embracing a burst of juicy peach nectar. In the heart, the rich lusciousness of jasmine sambac meets the fresh beauty of rose. Ylang ylang from Mohéli lends texture and depth to the body that eventually dries to a rich and luxurious base of skin woods and musk that keeps the narcotic effect alive for hours on your skin.
I'm not even kidding, those are most of my favorite things jam-packed into one tiny Kim Kardashian body. The only one of my favorite things missing is financial security, but we can't have everything, can we?
Kim went into more detail about the notes of the fragrance on social media, providing the exact top, middle, and base notes in KKW Body:
TOP: Vert de Bergamot, Vert de Mandarin, Baies Rose Orpur, Peach Nectar
MIDDLE: Ylang Ylang Moheli Orpur, Rose Turkey Absolute, Jasmine Sambac Absolute
BASE: Vetiver Haiti Orpur, Sandalwood Australia Orpur, Golden Amber, Musk
Given these descriptions, I'd say it's a pretty safe bet to assume Kim's latest launch veers more on the floral, sweet-smelling side of things, while still giving off a gentle musk. And according to Cosmopolitan, that assumption would be pretty much correct. The publication blindly tested the fragrance on 10 individuals, most of whom said something along the lines of the fragrance smelling "flowery" and "summery." Some people concluded that the scent was "heavier" than an everyday scent and "more of a sexy date night perfume than daily fragrance." Still, the response was mostly positive.
If this scent sounds like it's up your alley, you need not fret, because KKW Body hasn't sold out just yet! The fragrance is still available for purchase on KKWFragrance.com, priced at $60 for a 100mL bottle. Despite the perfume just being released on Monday, April 30, fans have already raved over the bottle concept alone on social media and jumped at the opportunity to order.
From Kim's Crystal fragrance collection to her Candy Hearts fragrances and now KKW Body, the reality star seems like a force to be reckoned with in the fragrance industry as well. I don't know how she's gonna top giving the world a mini mold of her body, but I do know that I can't wait for whatever comes next.
While KKW Body is still available for purchase now, I anticipate Kim's stock to be running low soon, given the fan response on social media... or the fact that I just purchased half of her remaining stock probably. And as the weather quickly gets warmer, you'll definitely want this summery scent in your fragrance arsenal.