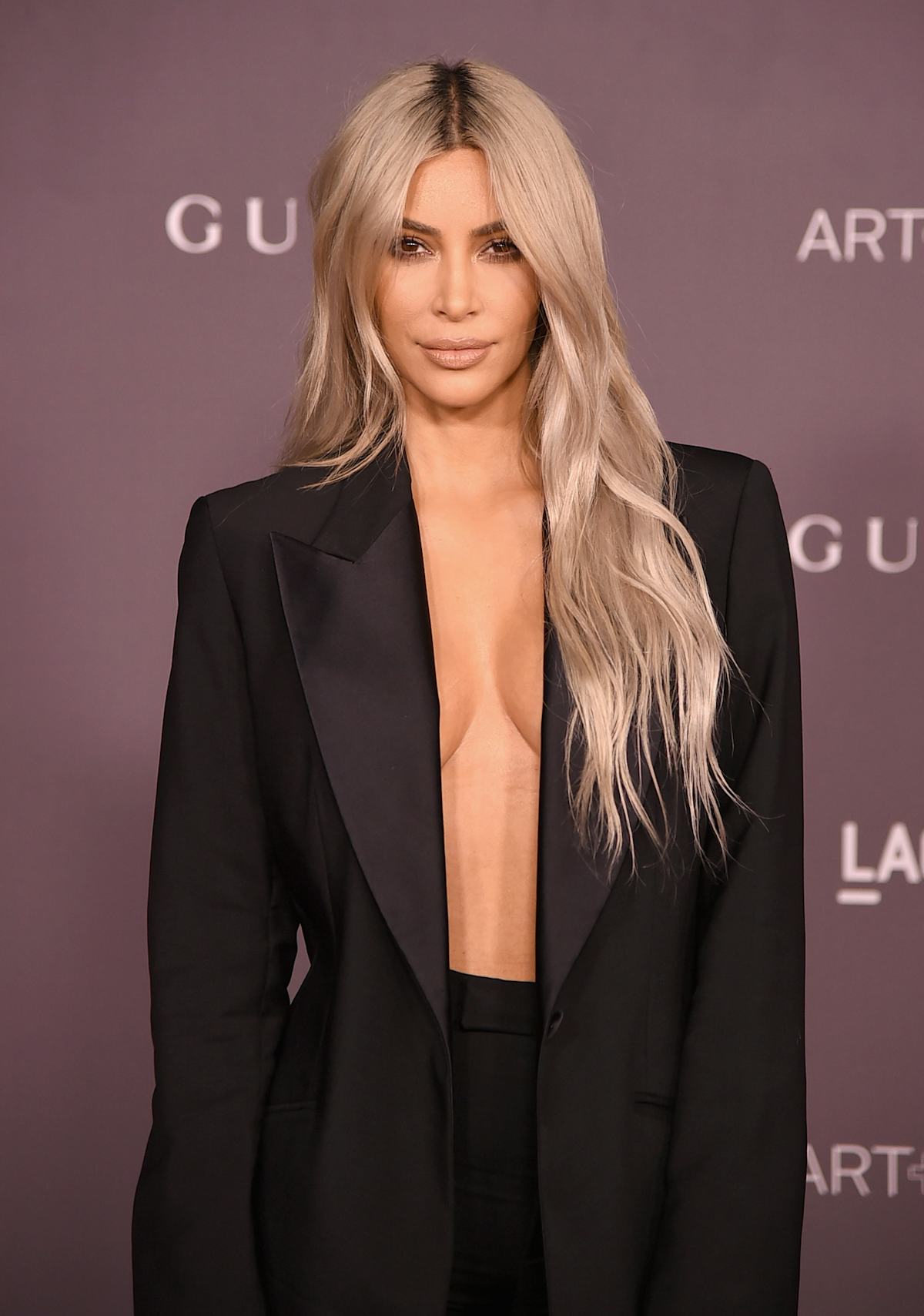 Kim Kardashian Is Launching A New Fragrance & You'll Want This One All Over Your Body
Kevin Winter/Getty Images Entertainment/Getty Images
If I'm being totally honest, Kim Kardashian could launch a line of trash bags, and I'd immediately buy 40 packs and kiss my Hefty bags goodbye. (Sorry, Hefty.) Call me nuts, but Kim just keeps on giving, and I will gladly receive whatever it is. This time, it looks like Kim K may have another launch on the horizon after she posted a mysterious Instagram, and I am already eager to eat it TF up. So, what is KKW Body? Well, let's review the facts, shall we?
I hope you're as ready for this Investigative Journalism™ as I am. Here we go. On Saturday, April 21, Kim teased some sort of new project in a post on the KKW Fragrance Instagram account. The post featured a sculpture of the front and the back of a female figured made out of and emerging from the sand and was captioned, "COMING SOON 04.30." Interesting. Thank you for telling me nothing, Kimberly. Naturally, because the post appeared on the KKW Fragrance page, fans (myself included) assumed a new summery fragrance was on the horizon. Now, here's where things get interesting.
On Tuesday, April 24, Kim teased her latest project once again, this time with an Instagram post to her personal account. This time, the post featured a close-up of the front of Kim's own body, her hands covering her chest, with the accompanying caption, "KKW BODY 4.30 by Vanessa Beecroft." Kim also tagged the KKW Fragrance account and @piopico.la, which seems to be the Instagram account for an art gallery in L.A. All righty, a lot more to work with here.
We know something is launching on Monday, April 30. We know it's called KKW Body. So what is KKW Body exactly? Well, Kim answered that in yet another Instagram post on the KKW Fragrance account later on April 24. The photo featured Kim Kardashian's bare torso and hips and was captioned, "#KKWBODY, KKW FRAGRANCE'S NEWEST PERFUME, IS COMING SOON ON 04.30"
Alas, a new perfume for KKW Fragrance is confirmed. TBD on what it'll smell like, but frankly, I'm just hoping it'll make me smell like Kim Kardashian. I imagine she smells glorious, like an elegant, mysterious woman and also money.
But in this mystery, there's still one question left to answer. Who is Vanessa Beecroft, the woman Kim tagged and mentioned in her Instagram post? *Pulls out magnifying glass out of nowhere as jazz noir music begins playing, also out of nowhere*
Vanessa Beecroft is a 48-year-old contemporary performance artist from Italy, though she resides and works in the U.S. According to the New York Times, Beecroft made waves in the art industry for her performance pieces involving large groups of women wearing undergarments and high heels and standing in formation. In another performance piece, called "Show," Beecroft even worked with Tom Ford and makeup artist Pat McGrath. In fact, she's collaborated with a number of fashion moguls in the past.
The New York Times reports that Beecroft believes "the true beauty of women has never been reflected in art or fashion, implying that she aims for greater accuracy by presenting the real thing in this highly artificialized, structured form." Essentially, it seems Beecroft's work, both her performance art and her more traditional work with drawings, paintings, and sculpture most recently, appreciates, showcases, and humanizes female sexuality and the natural female form.
So how does Vanessa Beecroft fit with Kim Kardashian? Here's where the plot thickens, my friends. Apparently, Vanessa Beecroft has collaborated with Kanye West for quite some time, most notably for his Yeezy fashion shows in the past. "I consider my work his. I trust his vision so much," she said of their collaborations, according to Fashionista.
After receiving much acclaim for her work with the scenography on Yeezy Season 3, things took a slight turn following Yeezy Season 4, when both Kanye and Beecroft faced backlash from the fashion industry after models had fainted during the fashion show due to standing in extreme heat for extended periods of time. Additionally, in 2016, Beecroft was reportedly taken off Kanye's "regular payroll" and switched to a single project basis, according to The Cut. Beecroft claimed to The Cut that this was Kim Kardashian's doing, so it's interesting to see the two collaborating on a new project together.
While some clues about the new fragrance — the price, the packaging, the scent itself — remain a mystery, I'll be keeping my eyes glued to Kim's social media for more information until April 30. In the meantime, here's to hopefully smelling as delightful as I'm sure Kim Kardashian does.