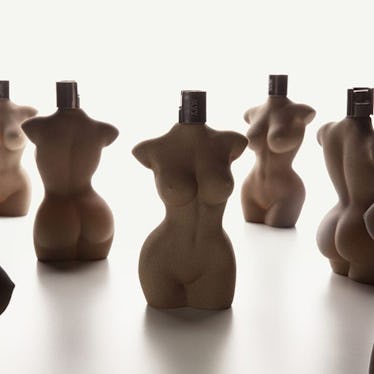 Kim Kardashian's "Body" Perfume Dropped & It Honestly Smells So Different Than It Looks
KKW Fragrance
Kim Kardashian first added fragrance to her repertoire in 2009, when she released a namesake perfume that smelled of gardenia, tuberose and jasmine. She's since released a crystal-inspired trio of scents (Crystal Gardenia, Crystal Gardenia Citrus and Crystal Gardenia Oud) and in February, launched three Valentine's-Day themed Kimoji Hearts perfumes (Bae, Ride Or Die, and BFF) under the KKW Fragrance brand name. However, her latest release, KKW Body is by far the most buzzed about. From the anatomically correct copy of Kim's torso to the summer-inspired scent, here are the best KKW Body perfume reviews from around the internet.
Kardashian's new bottle has been the subject of controversy since the KKW Beauty mogul first started showing it off. Fans took to Twitter to accuse the 37-year-old of ripping off Jean Paul Gaultier's iconic perfume bottles (almost all of which are known for being in the shape of a human torso). Fan Dan Hindmarsh tweeted "well done to @KimKardashian for making her perfume bottle in the shape of her body. Just the 15 years behind Jean Paul Gaultier," while another posted "Jean Paul Gaultier called and he wants his perfume bottle back." Even Jean Paul Gaultier threw some shade at Kim Kardashian in an Instagram post showing off Gaultier's 1993 Classique eau de parfum, which features a bottle in the shape of a woman's body without a head, arms or legs, and the caption "Keeping up with the fragrance's news! #Classique #JeanPaulGaultier."
Then, Ellen DeGeneres deemed it too sexy for daytime television in the clip below.
She eventually showed off the replica of Kim's naked torso, but kept a pair of tiny underwear on the bottle. While DeGeneres and Kardashian both joked about needing to blur out certain areas of the body-shaped bottle, others took to Twitter to spill their thoughts on all the racy content being created by KKW Fragrance.
While it's obvious Kim posed naked to promote her perfume packaged in a bottle that resembles her naked body, fans are confused by the marketing. Melissa says, "can we please get a hint about what it smells like because im not getting what it smells like with just a picture of your body."
While the perfume just released today, I'm about to clear up some concerns. Kim described it on Twitter with the caption, "this fragrance has one of my favorite florals Jasmine in it with a rich Sandlewood and Amber! It has sweet and musky notes like peach and rose too!"
For us laymen, hearing of sweet and musky notes and jasmine and amber scents might be difficult to decipher. Cosmopolitan polled employees from around the office for their honest reviews, which are much easier to decipher. Brooke from the Cosmopolitan office says, "I anticipated something much sweatier-smelling and maybe like, inappropriate to wear in public? I guess because my idea of "body" is like, body odor? But this is actually really nice and smells like it could work for any life occasion. I like floral scents though, so I should add that this one is very florally," while Lauren adds, "I thought it was a little too strong for me. I was expecting it to smell like a lighter floral fragrance, but it was very heavier and definitely not a perfume I would wear every day. Sorry Kim, still love ya!"
So the perfume smells nothing like body odor, sweat, or Kim's vaj (eek!), it actually smells flowery and powdery. If that's what you're into, today is the first day (and perhaps the only day, if it sells out) you can shop the fragrance on KKW Fragrance's website. Now that you know what it smells like, I'll let you decide whether or not you'll chose to display Kim Kardashian's naked body on your dresser.