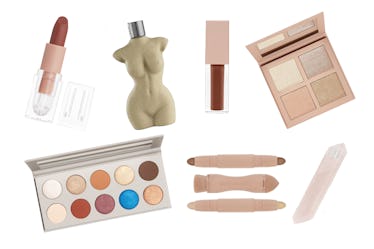 Kim K Is Opening A KKW Beauty Pop-Up Shop Really Soon, So Prepare To Go Broke
KKW Beauty
If you can't get enough of Kim Kardashian's beauty line and just so happen to live in sunny Los Angeles, then cancel all your plans for Wednesday, June 20. The first-ever KKW Beauty pop-up shop is coming to town. From then until July 27, beauty lovers will have access to products from both the KKW Beauty and KKW Fragrance lines, as well as limited edition collections, Kimoji x Lumee merchandise, and more — including some previously sold-out goodies.
From the Concealer Kits to the Crème Contour Sticks, KKW x Mario Collection, and much, much more, there will be tons available in the new pop-up, located at Westfield Century City (10250 Santa Monica Blvd.) in L.A. And if you're there on July 14, you'll even be able to pick up the new Kimoji Fragrance, which will be launching that day.
The store will be open from 10 a.m. PT to 10 p.m. PT on both Friday and Saturday, 11 a.m. PT to 7 p.m. PT on Sundays, and 10 a.m. PT to 9 p.m. PT throughout the rest of the week. So if you're heading on down, you've pretty much got all day to browse.
While you do have over a month to experience the pop-up shop, those who are able to make purchases within the shop's first week open will get a chance to win an exclusive invitation to a private opening celebration at Westfield Century City, hosted by none other than Kim Kardashian herself, along with her bestie and renowned makeup artist Mario Dedivanovic, happening on June 30.
It's no secret Kardashian and Dedivanovic have a special bond. The pair have been working together for nearly 10 years, and according to Dedivanovic, when the two met, he said there was an instant connection.
"Kim was incredibly loyal, and I was loyal to her and loved working with her," he shared with Fashionista in February. "Her face was just kind of made for me, and when I started working with her I was able to establish my style of makeup. It just so happened that that style that worked really well on her and that was the style that she loved for herself."
Dedivanovic continued that they even connected when it came to her ethnic roots. "Kim's Armenian and she loves to look Armenian," he later told The Hollywood Reporter. "She'd say, 'Make me look ethnic.' I feel like that was one of the reasons that she really loved my makeup so much, is that I made her feel ethnic and kind of like herself."
June 21, 2018, will be a year since the brand launched, and after almost every drop, Kardashian's products have continuously sold out, proving the power of Kardashian's influence on the beauty industry. But the success of KKW Beauty hasn't come without a few hiccups along the way.
When the line first launched, the Rihanna Navy was not happy. Thinking that Kardashian was trying to steal RiRi's shine, fans swarmed to Twitter to voice their grievances. Some even speculated that the reality star is "so obsessed" with Rihanna. (But, if we're honest, who isn't?)
Another feud also began after YouTube beauty star Jeffree Star —who had been under fire for past racist remarks — critiqued KKW Beauty's Contour Kit. Fans of the mother-of-three weren't having it, but Kardashian quickly came to Star's defense, even calling her own work "struggle swatches."
But aside from all the drama, Kardashian has racked in millions from her beauty line. After the initial launch of KWW Beauty sold out in only three hours, TIME reported that her 300,000 available kits racked up approximately $14.4 million. Pairing that with her other ventures like Kimoji, and her personal app, which can each be purchased for $1.99 and $2.99, respectively, Kardashian made around $45.5 million from 2016 to 2017, according to TIME. Wow!
A savvy businesswoman indeed, Kardashian is also keen on listening to fans of her brand, and taking action to ensure she's giving them what they really want. And the upcoming pop-up shop is proof of just that.