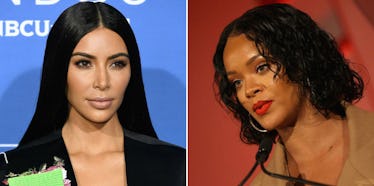 Rihanna's Fans Are Upset With Kim Kardashian For Launching KKW Beauty Line
Getty Images
Kim Kardashian is once again about to break the internet.
Not only are there reports that she and Kanye West have hired a surrogate to carry their third child, her beauty line, KKW Beauty, launched (and quickly sold out) today.
The internet has a lot to say about both pieces of news, and not everyone is happy.
In particular, Rihanna's fans think Kim K is stealing the singer's thunder. Rihanna will reportedly be launching Fenty Beauty, which she has been teasing since 2015, this fall.
Naturally, Twitter has some strong feelings about Kardashian launching her line first.
Rihanna definitely started talking about her beauty brand (at least publicly) before the reality star mentioned it. In an interview with Refinery29 in 2015, Rihanna was asked about the possibility of her own line of beauty, to which she replied,
Oh wow, that's crazy, how did you know that? That is definitely something I am going to have my hands on and would love to do. It's something that I've always wanted to do, but I've always had so much on my hands. But, this time, I'm going to make sure it happens. I'm going to find some time between albums and fragrance to do that. I promise.
In 2016, the "Umbrella" singer officially signed a deal with the Kendo division of LVMH to produce a full cosmetics line, which we still have limited details about at this point.
But now, just when the wait is almost over, Kim Kardashian has launched her brand.
It seems like there is probably room in the market for both -- some even think it's exciting.
Twitter would rather pit celebs against each other, though.
In fact, Rihanna's fans aren't the only ones angry today. Beyoncé fans aren't all that happy with Kim and Kanye's surrogacy news breaking right after Bey gave birth to her twins.
Honestly, I find it difficult to believe Kim is the least bit fazed by the chatter on Twitter, seeing as KKW Beauty already seems to be massively successful. And if she and Kanye are truly expanding their family, I don't imagine it has anything to do with the timing of Beyoncé and JAY-Z's twins.
Regardless, I'll leave Twitter to fight it out.