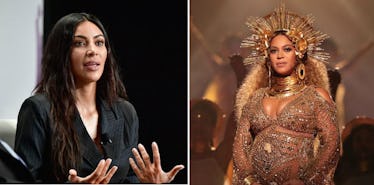 Beyonce Fans Are Pissed At Kim Kardashian For Her Baby News After Twins' Birth
Dia Dipasupil/Christopher Polk/Getty Images
Kim Kardashian and Kanye West have hired a surrogate to carry their third child, People reports.
Elite Daily reached out to their teams but did not hear back at time of publication.
According to documents reportedly obtained by TMZ, Kim Kardashian and Kanye West already found their surrogate through an agency and agreed to pay $45,000 in 10 monthly installments. They also already reportedly paid a deposit of more than $68,000 to the agency.
Obviously, this news has sent the internet into freak-out mode, but not everyone is all too pleased with the timing.
Beyoncé reportedly gave birth to her twins last week, so the internet is still reeling over that. The babies are reportedly still in the hospital in Los Angeles being treated for jaundice, which is apparently common in premature babies and not too serious.
We still don't even know the names of the Carters' new additions, nor has there been any kind of official announcement from Beyoncé or Jay-Z.
So this feels like fishy timing for news of a third West baby. Can we not just let Bey have her birth week to herself?
The timing has definitely angered the Beyhive!
Some think this is just another example of Kim Kardashian wanting to be like Beyoncé.
Others, though, are pointing out that the Wests' decision to have a third baby is their own personal choice and likely has nothing to do with the Carters.
It is worth noting the subject of a surrogate for Kim has come up on numerous occasions on Keeping Up with the Kardashians.
In an episode that aired last fall, the 36-year-old appeared to be seriously considering surrogacy as an option after being told by multiple doctors that a third pregnancy for her would be "high risk."
At the time, she discussed her fears about hiring a surrogate and what that would mean. She revealed,
I think my biggest fear is that if I had a surrogate, I just don't know like, would I love them the same? … That's the main thing that I keep on thinking about, that scares me.
Timing and angry Beyhive aside, we wish the Wests the best as they expand their family!