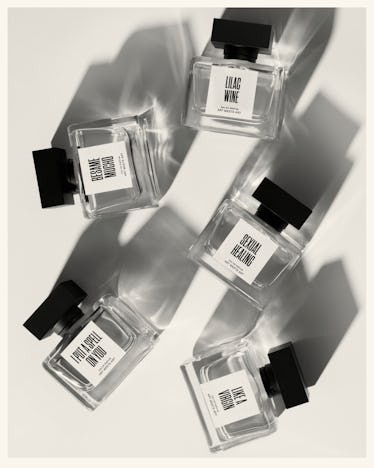 New Perfumes Inspired By The Songs "Like A Virgin" & "Sexual Healing" Hit The High Notes
Art Meets Art
Imagine a collection of high end perfumes that included fragrances inspired by some of your favorite cult classics songs. That collection actually exists and it's as good as you'd hope it would be. This Art Meets Art Perfumes review will essentially tell you that each scent hits a major high note (you can't go wrong with any one of the brand's fragrances) but for a more detailed breakdown read on below.
With fragrances like Sexual Healing, Besame Mucho, Like A Virgin and more, you might expect Art Meets Art to be a somewhat kitschy or drugstore quality brand. However, that's not the case at all. The fragrances are refined, beautifully packaged, and actually speak to the souls of the songs they're named after scent-wise. Seeing as the brand has enlisted top talents to create them, this should come as no surprise. As written in a press release from the brand, "Art Meets Art is a French creative studio gathering some of the best perfumers in the world," and, it goes on, "creating beautiful, modern, and soulful fragrances that resonate into people's hearts." Created by four world-class perfumers including Alberto Morillas, Christophe Raynaud, Fabrice Pellegrin, and Frank Voelkl, the fragrances are meant to strike a chord both scent and sonic-wise, reminding people of their favorite hit jams while also assigning them correlating fragrances.
I've always thought it was fascinating that scent is the sense most closely linked to a memory. Have you ever passed by someone wearing your grandmother's perfume and had her pop into your head, or smelled a certain soap that reminds you of your childhood? Scent is so, so powerful in terms of bringing up old emotions or memories, so I find it incredibly cool that songs that should never be forgotten will get their own scent.
There's Like A Virgin, which is super simple and chic and smells like one note, despite the fact that its formula includes mandarin, aquatic notes, ambrox, musk freesia, peony, rose, and paradisone modern woods. "Surround yourself with a halo of divine purity. 'Like a virgin, touched for the very first time,'" reads its description.
Sexual Healing is one of the more indulgent fragrances of the bunch, which makes sense given its name. It's heady and has an almost chocolatey appeal. Formulated with ginger, honey, heliotropine, tobacco absolute, vanilla, and ambrose, it can be described as melting honey. "Born from a creative experimentation," its description reads,"can we compose a perfume that is as hot and sensual as the voice of Marvin Gaye?" Yes. Yes, they can and they did.
If you like Yves Saint Laurent's Opium fragrance then you'll love I Put A Spell On You. It's made with neroli, mandarin, bergamot, grapefruit, heliotropine, tobacco absolute, vanilla, and ambrose for an excellent balance of fragrances. "A creation about addiction," reads its description. "So pleasant you cannot stop smelling it again and again. 'I put a spell on your because you're mine.'"
Also included within their current range is Besame Mucho, a mixture of incense, blood mandarin, pink pepper, orris, amberette, black currant, black leather, cedarwood, and white sandalwood; and Lilac Wine, which features lavender, violet, plum, freesia, clary sage, cognac accord, cedarwood, musk, and moss. "Ultra chic and sexual," reads the description of Besame Mucho. "Ready to get more kissable?" While Lilac Wine is dubbed "a comforting and heady perfume with classic elegance."
You can currently buy all five of the fragrances online at Saks, with each 1.66 ounce bottle costing $95. Remember, these are luxury-level perfumes, they're not going to be cheap. If you want to try the discovery set, which includes a small sample of each fragrance, head over to Art Meet Art's website, where you can buy it for $9.
Enjoy every note!