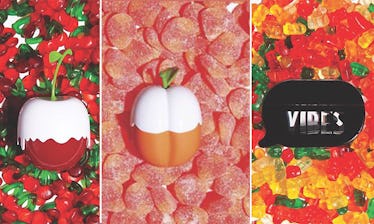 Kim Kardashian Is Dropping 3 New Perfumes For Summer, Inspired By Your Fav Fruity Emojis
kkwfragrance on Instagram
Having your own emojis is the most Kardashian thing ever, but making and selling perfumes inspired by your very own emojis (also known as Kimojis, because, of course they are!) is about as Kim Kardashian as it gets. And because everyone knows you need more than one emoji (inspired scent), the beauty mogul is delivering the goods. Kim Kardashian's Kimoji Fruit Perfumes are on their way and lovers of fresh, zesty scents will be jonesing to add them to their perfume keyboards.
The first KKW Kimoji Fragrance scents debuted early this year, with three iterations packaged in the cutest Valentine's Day candy-heart inspired bottles. BFF, Bae, and Ride or Die sold out almost immediately, which is quite a feat, considering everybody who bought the fragrances did so without smelling them first. Like so many Kardashian-branded beauty products, items are sold online, and marketing takes place via social media.
And because Kim Kardashian West is just as business minded as momma Jenner, she quickly got to work on her next round of Kimoji perfumes to add to her roster of sold-out beauty products. Three new Kimoji fragrances are dropping this month, and if you can believe it, they might be cuter than heart-emoji bottles. Can you guess which Kimojis 37-year-old reality star was inspired by this time? Chances are you have at least a couple of them lingering in your recently-used emoji list right now. When dreaming up her next trio of fragrances, Kim Kardashian turned to the peach, cherry, and "vibes" thought bubble emojis for inspiration.
But how does one interpret said emojis into scents, or better yet, the bottles in which the scents come in? Well, for starters, Kardashian West turned the animated emojis into real-life sculptures. See below for teaser photos posted on KKW Fragrance's Instagram.
Kimoji Cherry
The Kimoji Cherry bottle is shaped like a giant cartoon cherry dripping in cream and contains a scent as fruity as you'd imagine. The caption on KKWfragrance's Instagram says, "the smell of sweet temptation 🍒 KIMOJI CHERRY includes notes of juicy red cherry, luscious raspberry, sweet strawberry, cherry blossom, gardenia petals, vanilla, woods and musk." It's unclear on how the bottle works, but I'm thinking the stem and leaf connected to the dripping cream is the cap. If I had to guess, once you remove the cap, there's a spritzer attached to the cherry, which holds all the perfume.
Kimoji Peach
Though Kimoji Peach hasn't been posted on KKWfragrance's Instagram, Kardashian West posted about the scent on her personal story. She says it "includes notes of juicy peach, fresh nectarine, jasmine petals, peach blossom, creamy vanilla, sandalwood and musk," though that's the exact blend I'd imagine just from looking at the bottle.
Kimoji Vibes
However, the final fragrance of the trio is completely open to interpretation. Can you guess what a black thought bubble with the word "vibes" printed across it smells like? According to KKWfragrance's caption on Instagram, it smells "joyful, irresistible and lively 💬 KIMOJI VIBES includes notes of watermelon, bergamot, juicy pineapple, apple blossom, peony petals, fresh jasmine, cedarwood, sunkissed amber and musk." Basically, it smells like a spilled pack of gummy bears.
Whether you were lucky enough to get your hands on the first Kimoji launch or not, this one is too cute to be missed. No word yet on how much the new Kimoji Peach, Cherry, and Vibes fragrances will cost, but Kim Kardashian West's previous Kimoji heart fragrances retailed for $30, so I'm guessing they'll be around the same price.
The three new scents are dropping first at Kim Kardashian West's KKW Beauty pop-up at the Westfield Century City mall on July 14. Lucky for us Angelinos, we'll be able to smell the fragrance before buying it online. However, if you're not down to catch a flight to LA, just to buy a peach-shaped bottle of perfume, don't worry, the perfumes will be available on KKW Fragrance's website beginning July 17.