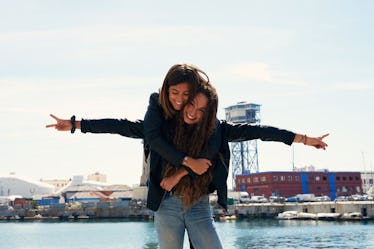 7 Friends To Break Up With RN, Because We All Need To Do Some Summer Cleaning
Sometimes, summer cleaning isn't all about getting rid of old textbooks and washing our cars for the first time in months. Sure, all of that laundry from last semester needs to get done at some point, but did you ever think of picking up the other parts of your life? Truth is, the sunniest season of the year is a great time to do some soul-searching. Your schedule is a lot less packed, so you need to make yourself a priority. When you're organizing, you may want to consider the types of friends you should break up with along the way. Some people are making your life more complicated than it has to be.
These are the ones who tear you down instead of lifting you up. They've caused you a lot of stress, or just completely lowered your self-esteem, and honestly, that's not how friendships should go. Especially in your 20s, you need to surround yourself with a girl gang that lets you live your best life. Like any relationship, if it doesn't bring out the brightest parts in you, it's not worth it.
Sure, friendship breakups can be brutal, and you never quite know what to expect. But, in the long run, having not-so-toxic people in your life will pay off. You'll realize that you're healthier and happier, and sometimes it's OK to look out for yourself like that. These seven friends you may want to take out of your equation when you're doing some summer cleaning.