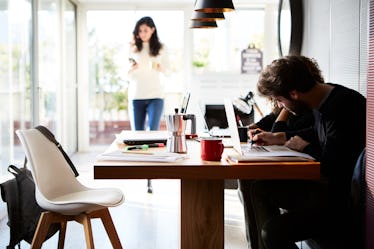 Here's How To Tell If Your Partner Should Help Pay Your Rent, According To Experts
It's the greatest relief in the world when you introduce your partner to your social circle and things just click all around, right off the bat. Your SO can take it and dish it with your most sarcastic bestie, and they're even hitting it off with your roommate, too — so much so, in fact, that she doesn't seem to mind that your partner has crashed at the apartment for the last... uh, how many days has it been? Huh. The fact that you've lost track might mean it's time to consider whether your partner should help you pay rent at your apartment.
Look, life isn't an episode of How I Met Your Mother. Ted, Lily, and Marshall may have been the ultimate tripod, with an impossibly effortless living situation in a suspiciously large Upper West Side apartment, but real life is usually way more complicated than that. Even if your significant other is welcomed with open arms into your shared living space, if their name isn't on the lease, then there are definite boundaries to be drawn, and lines that can get crossed.
According to Clarissa Silva, behavioral scientist and creator of the Your Happiness Hypothesis Method, it's important for you and your roommate(s) to establish what both of you are and aren't comfortable with when it comes to having SOs hanging out, or even sleeping over, at the apartment. Some boundaries to talk about, she tells me in an interview with Elite Daily, include how often a partner stays over, the way they dress around the apartment (i.e. maybe your roomie doesn't want to see your BF chillin' on the couch in his boxer briefs), and of course, whether they're at your house enough to be expected to contribute toward things like rent, bills, groceries, and the like.
Here are five ways to tell it's time to ask your partner to chip in a little for their fair share around your living space.