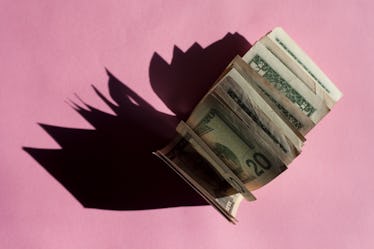 6 Questions To Ask Yourself Before You Start Splitting Expenses With Your Partner
Deciding to fuse lives with your SO is an exciting milestone, but definitely one that requires plenty of forethought. Part of figuring out the best way to navigate life once you've moved in with your partner is having a game plan for how to approach shared finances. While it may seem like a no-brainer to split things evenly, there are some things you might want to consider before splitting expenses with your partner.
According to research published in the American Express Spending & Saving Tracker, about 30 percent of couples said finances caused the most stress in their relationships. Even more shocking is that 91 percent of the people surveyed said they find reasons to avoid talking about money with their partners. Not a good look, and while moving in together isn't quite as intense as getting married, the lifestyle implications are certainly in the same ballpark.
It's particularly important to thoroughly think things through if it's already apparent that you and your partner might not be on the same page when it comes to spending. And while there's no need to be all up in their grill by regularly monitoring every penny that leaves their personal savings account, combining finances can affect the dynamic of your relationship. So, to ensure you and your SO are ready to tackle the next phase, here are some questions to ask yourself prior to pooling your resources.