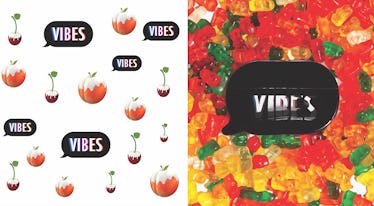 The Kimoji Fragrances Are Some Of Kim K's Most Affordable Perfumes Yet, So I'll Take All 3
When shopping online, fragrances can be particularly tricky. It's all about the scent, so obviously, when you can't smell it before you buy, that complicates things. Even though I trust Kim Kardashian West after numerous successful KKW Fragrance launches, I'm still a little hesitant to spend the big bucks on a perfume I might not like. As soon as her latest launch was announced, I immediately started asking how much the Kimoji Fruit fragrances cost.
While we're all familiar with watching the Kardashians' luxurious lives on the 'Gram, they tend to be fairly reasonable when it comes to pricing their products. They don't bang out drugstore-level bargains, but they also don't jack up the price just because a Kardashian signature is on the box. In my opinion, not overcharging is pretty respectable, considering the Kardashians know their fans will do most anything for these girls.
A look at the KKW Fragrance website proves that for the most part, Kardashian's pricing has been quite reasonable. When she launched the brand with the Crystal Gardenia ($60, kkwfragrance.com) scents, each cost just $60 for 75mL and $35 for 30mL. The full-size bottle was hardly overpriced, but including a smaller and cheaper version was likely a major plus for fans who wanted to support her but were unsure if they'd like the scent without smelling it first.
When the first round of Valentine's Day-inspired, limited edition Kimoji fragrances came out, they were also reasonably priced at $30 for a 30ml bottle. Can you see a pattern forming?
Her most recent release, KKW Body ($60, kkwfragrance.com) isn't available in a 30mL mini version. Still, she kept the price tag reasonably in line with the amount of perfume in the bottle.
Given these price points, I guessed the price of the new Kimoji Fruit fragrances would be around $60, too...
So imagine my surprise when I found out that each new Kimoji Fruit fragrance will cost a mere $45 for 50mL!
Clearly, Queen Kimmie has decided to bless us with a bargain after all. What did we do to deserve such blessings?
To think, for just $45, I can have the peaches 'n' cream-inspired Kimoji Peach Perfume, which, according to Kylie Jenner's unboxing on her Snapchat, smells "fantastic":
Or, an equally fruity and fun Kimoji Cherry Perfume decorating the top of my vanity:
Or, the chic and sweet Kimoji Vibes perfume!
Now that I'm aware of the reasonable price tag, I'll definitely be stocking up on this latest launch, even without actually smelling the perfumes before I buy. If you're in the L.A. area, however, and want to try in person, you're in luck: With the success of her KKW Beauty pop-up, Kardashian also announced that the new Kimoji Fragrances would be available starting July 14 at the pop-up.
As for the rest of us not living in sunny L.A., we'll have to wait until July 17 at 12 p.m. PST for the perfumes to be available online via the KKW Frangrance site. And believe me, when that moment comes, I will be eagerly Adding to Cart, insisting that Kim K take (a reasonable amount of) my money.