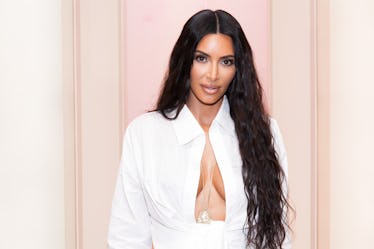 This Photo Of Kim Kardashian Balancing Her New Fragrance On Her Butt Is Perfectly Peachy
Presley Ann/Getty Images Entertainment/Getty Images
It was a morning like any other: I was lying lazily in bed, scrolling through Instagram in a desperate attempt to stay horizontal for a few more minutes before beginning my day. At this point, my feed was filled with the usual: a few drinks-in-the-air shots from people who went out last night, some sunrise photos from the early-morning risers, at least one or two breakfast flat-lays that made me realize I was hungry... oh, and a photo of Kim Kardashian balancing her fragrance on her butt. Welcome to normalcy in 2018, people!
Seriously, I feel like this should've shocked me for at least a moment, but honestly, it was pretty much what I've come to expect from marketing goddess, Kim K. In the words of that one Lady Sovereign song that should've been a bigger hit, "Love me or hate me, it's still an obsession"! Kim is no outsider when it comes to successful strategies for making a sale, and TBH, what's a girl to do other than flaunt what she's got?
Go 'head, Kim!
Me, while immediately liking her photo:
What's that? You're not familiar with the fruit-shaped fragrance balancing on Kardashian's rear end?
That right there is the Kimoji Peach Perfume ($45, kkwfragrance.com), part of KKW Fragrance's latest Kimoji-inspired releases.
It's not the first time we've seen Kim's booty on social media by any means, but it's also not the first time she's used her fab body to sell a perfume.
Who can forget the ad campaign for KKW Body ($60, kkwfragrance.com), which was packaged in a bottle created from a mold of Kim's own body?
While a lot of people found this campaign a bit extreme and controversial, I thought it was gorgeous and also totally badass! Not only did it serve me some serious Renaissance nude sculpture vibes, but Kim is someone who has been both criticized and hyper-sexualized by the media for her body. Rather than worry about how others portray her, she takes matters into her own hands and decides how the world gets to see her. I am so here for this in-your-face body positivity!
Granted, Kim's latest Insta isn't as artistically styled as the KKW Body campaign, but there's a reason she chose her derriere as the perfect pedestal for Kimoji Peach. The bottle is modeled after the peach Kimoji... which is modeled after the traditional peach emoji... which is often used to reference a booty. The peach emoji has become practically symbolic of Kardashian: There's even a 🍑 beside her name on Snapchat, where only verified users receive emoji status. (DJ Khaled has a key, Ariana Grande has a crescent moon, etc.)
Kimoji Peach is the perfect summer blend of juicy peach and nectarine, paired with warm vanilla and sandalwood. The KKW Fragrance Kimoji Fruit release featured two other perfumes in addition to the Peach, including Kimoji Cherry ($45, kkwfragrance.com) and Kimoji Vibes ($45, kkwbeauty.com).
All three of the fragrances have been selling quite well, according to TMZ, who reports that they made Kardashian $5 million dollars within the first five minutes of sales. That's a million a minute, people! Even so, none of the three fragrances sold out, so if you're itching for one after seeing her latest Insta — perhaps to recreate her 'gram — you can still snag one!
In conclusion? Long live Kim K's bootylicious marketing strategies!