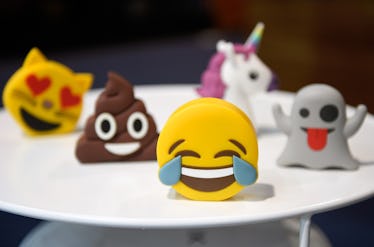 Facebook Revealed The Most Popular Emojis Used This Year & They'll Make You Smile
David Becker/Getty Images News/Getty Images
It's already July, which means a majority of the year has already passed (time flies, I know). Maybe 2018 is treating you well, and maybe it's not. Regardless, new statistics from Facebook have proven that everything might not be as bad as it seems. In honor of World Emoji Day, the website revealed the most popular emojis used on Facebook this year. Believe it or not, the winning selections are super optimistic, and they'll probably bring a smile to your face.
In case you didn't know, World Emoji Day 2018 is being celebrated on Tuesday, July 17. To commemorate the big day, Facebook analyzed the top emojis used on the app and in Messenger within the past year (since World Emoji Day 2017). The outcome is surprisingly uplifting and includes a variety of emojis that'll make you want to laugh, love, and eat a slice of birthday cake.
I'm not kidding. According to Facebook via Emojipedia, the most used emojis on Facebook within the past year are the crying-so-hard-I'm-laughing emoji, the heart-eyes emoji, the kissy face emoji, the birthday cake emoji (I told you), the heart emoji, and the blushing emoji. There's nothing but good vibes, ya'll. Take a moment and bask in the positivity:
By using emojis like these on a regular basis, you're bound to become a little bit happier. (I suppose those who are using Facebook regularly are already feeling the love, though.)
Speaking of "feeling the love," Facebook revealed another statistic about emoji usage on the app that'll make you swoon. According to the company's research, people have used the red heart emoji twice as much this year as they did last year. Not only is that super impressive, but it's also really sweet. Keep spreading the love, everyone. It's being noticed.
With all of these romantic Facebook statistics, you might assume that the biggest day for emoji usage is Valentine's Day. Surprisingly, you are incorrect. The company's research revealed that people use the most emojis via Messenger on New Year's Eve. It makes sense, right? Who has time to type actual words when you're busy pouring champagne and sharing a midnight kiss with your bae?
While we're on the topic of using solely emojis to communicate, get this: Over 900 million emojis are sent daily without text on Messenger, according to Facebook. I don't know about you, but I am definitely guilty of sending emoji-filled messages to my friends without the text. It's an easy way to communicate if you're busy throughout the day, but still want to send a heart emoji to the people you love.
Even so, I always have time to add an emoji to a Facebook post when I'm sharing a status throughout the day. Apparently, a lot of Facebook users feel the same way. In fact, more than 700 million emojis are used in Facebook posts on a daily basis. Phew, that's a lot of emojis.
If you're hoping to celebrate World Emoji Day with the rest of Facebook, go ahead and send your friends your favorite emoji. Whether your go-to pick is the birthday cake or the kissy face, I'm sure they'll enjoy it.