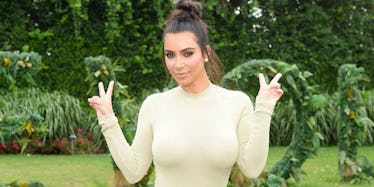 5 Reasons Kim Kardashian Is The Ultimate Role Model For Body Positivity
REX/Shutterstock
Many love to hate her. And many do love her. But one thing we can all agree on is Kim Kardashian sets a high standard for a healthy and positive body image, which is why she will always be my body-positive role model.
She embraces the ethnicity she was born into and some of the dark features she was born with as an Armenian-American, and she sets the standards for her young daughter, North.
Not only, though, is she setting an example for her daughter, she's setting an example for the entire world of women who are trying to build their self-esteem.
Kim K is the first to say we should look at body image in a positive and healthy way, and here's how she's changing the game.
1. Kim made "ethnic" look cool.
Armenians have the stereotypical big noses and hairy eyebrows. But if it wasn't for Kim Kardashian, thick eyebrows wouldn't have become such a big beauty trend.
Long dark brown hair and dark brown eyes make her appear more "ethnic," but she's clearly proud of her cultured heritage and roots.
2. Kim is the new Marilyn Monroe.
Armenian women have curves, and we're proud of it. Kim Kardashian doesn't try to hide these curves; she embraces her voluptuousness and makes curvy look sexy. It's about time curvy women started appreciating the way they were born and understand it is beautiful.
3. Kim works hard for her body.
You can see it in all of her snaps, website posts and on Instagram. She works day in and day out, even when she's traveling. Her post-baby body looks phenomenal because she works harder than most people to get the body she wants. She's a go-getter!
It probably helps to have a private trainer, but she clearly focuses on her diet as well.
Kim K is not only confident in her body but makes women around the world feel comfortable in their shoes, too.
4. Kim turned her positive self-image into a business.
Not just one of TIME magazine's 100 most influential people or Vogue's cover stars, she is a walking legend who has turned the definition of beauty upside down.
Kim K is a blessing to the human race. Every day there are teenagers who look at magazines for role models and are flooded with images of the typical blonde-haired, blue-eyed, thin models who look as if they are starving.
Then you have this Armenian princess -- olive colored, long hair, dark eyes, thick eyebrows and curvy hips -- to change the game. I'm not trying to put down any of the above who are born with blonde hair or blue eyes, but the truth is, in the decades since Marilyn Monroe, we've shifted away from the image of stick-thin models to curvy, voluptuous, rounded women.
Kim K is proud of who she is, where she came from and what she has been blessed with (that ass!).
5. Kim makes it her responsibility as a mother to teach her daughter how to have a positive body image.
Kim K understands when North grows up, she will look to her mother for advice. Through this understanding, Kim knows it is her responsibility to teach her daughter to have high self-esteem and a healthy body image.
I consider Kim a legend in this regard. Whether you are a fan or not, I think we can all agree her media presence and body shape have helped revolutionize the fashion industry and helped impact adolescents in a healthy way.