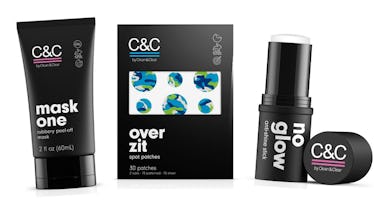 Clean & Clear's New C&C Skincare Line Has All The Products You Need For An Affordable Routine
C&C
As a millennial, there are admittedly certain qualities I look for in a product whilst shopping the skincare aisle. Firstly, I don't want to go broke repurchasing it, so the price has to be right. Secondly, I want something new, useful, and effective — I am well beyond the basic "just cleanser and moisturizer" phase of my skincare obsession. Finally, I want packaging that looks as good in my medicine cabinet as it does on my Instagram feed. Sorry, not sorry, but these are my requirements! So when I saw that C&C by Clean & Clear checked every box on my list, I knew it could be the next big thing.
Clean & Clear is a tried-and-true drugstore brand that you've likely taken for a spin at one point or another in your skincare journey. Their Dual Action Moisturizer ($5, target.com) was the first "skincare" product my mom ever let me buy, and I rarely go to a party in the summer without borrowing some Oil Absorbing Sheets ($5 target.com) from a nice girl I inevitably befriend waiting in line for the bathroom. As a brand beloved by so many of their customers, they decided to take the relationship one step further by collaborating with customers to create a brand new line full of products with buyers in mind.
C&C by Clean and Clear isn't just for millenials, but it's definitely meant to appeal to them, to which I'd say mission accomplished. Their Instagram feed is way better than mine could ever be, and when you get right down to it, the products themselves are just as appealing as the aesthetics.
The brand has launched with eleven initial products, and while some of these are traditional staples — cleansing wipes and face scrubs, for example — others, like blemish patches and an anti-shine stick, feel carefully curated. It's a well-rounded mix of essentials and treat-yourself items, and if you're temped to buy more than one, rejoice: Everything costs between $3 and $16 dollars.
If you've got an oily T-zone, the No Glow Anti-Shine Stick ($16, ulta.com) is about to be your new ride-or-die. A quick swipe minimizes the look of pores and controls shine for up to 12 hours, so it's perfect to prep the skin before makeup, or to keep in your back pocket in case of oily skin on particularly sweaty days. (We all have 'em!)
I'm already ordering these Over Zit Spot Patches ($16, ulta.com) in the camo print — they come in transparent, too! — for myself, in hopes that they're as effective as they are cute. The hydrocolloid in the stickers helps to heal any blemishes, so if you place one over a pimple before bed, you can wake up with clearer, happier skin.
I've never said no to a fun face mask, and the Mask One Rubbery Peel-Off Mask ($16, ulta.com) will be no exception. There's something so satisfying about a peel-off formula, since you can see dirt and impurities removed from your skin right before your eyes. Effective and addictive, IMO.
If you haven't jumped on the charcoal bandwagon yet, consider this your gateway product. The Muscle Bar Charcoal Cleansing Bar ($8, ulta.com) exfoliates as it cleanses, and can be used on both your face and your body. Plus, the eucalyptus scent will give you totally squeaky-clean vibes when you step out of the shower.
Clean & Clear are known to make a mean moisturizer, so I have high hopes for the Don't Flake Gel Moisturizer ($16, ulta.com). Fragrance-free and oil-free, the formula is super lightweight and water-based, so it'll keep skin hydrated without feeling like you've piled on tons of product.
These So Wiped Tropical Facial Wipes ($8 for $25, ulta.com) remove makeup and cleanse skin simultaneously — apparently, they're so good that you don't even need to follow up with a cleanser after. Hello, post-party godsend! You now officially have no excuse to sleep in your makeup ever again.
I'm a lover of refreshing products, so the Chill Out Cooling Mint Pore Cleanser ($12, ulta.com) instantly caught my eye as one to Add to Cart. Consider this face wash your daily morning and night go-to, with the minty kick as an added bonus.
The Tough Love Acne Clearing Peppermint Toner ($12, ulta.com) has breakout-fighting ingredients like salicylic acid and glycerin, which help to not only soothe your current acne, but prevent future pimples in the process.
Products like the Done & Done Dual-Sided Cleansing Pads ($16 for 40, ulta.com) are your new travel besties. With one side meant for cleansing skin and the other offering a healthy dose of exfoliation, these are the epitome of the expression "killing two birds with one stone."
The Black Out Blackhead Clearing Coffee Scrub ($12, ulta.com) gives skin a wake-up call thanks to its caffeine scent and gentle exfoliation. It also contains salicylic acid, so you get a bonus dose of anti-acne ingredients as well. Plus, this one comes in a travel size version ($4, ulta.com), too!
Nothing helps me unwind at the end of the day quite like the soothing scent of lavender, so I'll be ending my nights with the Total Zen Calming Lavender Mousse Cleanser ($12, ulta.com). This product is specially formulated for sensitive skin and has a whipped, mousse-like texture that's super gentle as it cleanses and pampers.
If you're feeling like you need at least one of these products in your routine right away, you can shop the entire C&C by Clean & Clear range now at Amazon (all available with Prime shipping!), Ulta.com, and in Ulta stores. I guarantee your skin will thank you, because right now, it's all: